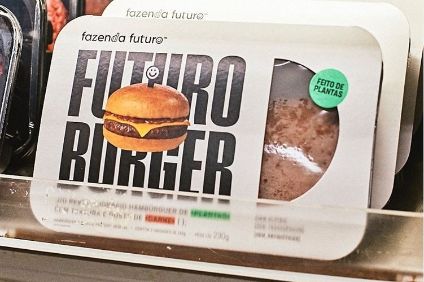 Only months after launching, Brazil-based meat-free company Fazenda Futuro has secured its first external investment.
The start-up has received US$8.5m in a financing round led by Brazilian venture-capital fund Monashees, with participation from Go4it Capital in Rio de Janeiro. The cash injection takes Fazenda's market value to $100m, the Sao Paulo-based business said in a statement.
Founded in April by Marcos Leta and Alfredo Strechinsky, the company has already rolled out its debut product – the Futuro Burger – a plant-based alternative made with pea protein, "isolated" proteins from soybeans and chickpeas, and beetroot to add authentic colour. They are free-from gluten and GMO ingredients. Pipeline innovation includes 'meatballs' and ground 'meat' in Bolognese sauce.
Investment funds will be used for product innovation and to expand Fazenda's manufacturing footprint in a country that is home to big traditional meat processors such as JBS, BRF and Marfrig Global Foods.
Chief executive Leta said: "Our goal has always been to compete with major beef producers, and the reception from retail partners, restaurants and consumers has shown that we are in the right direction. This fundraising puts us on the path for making Brazil one of the largest plant-based meat producers, just like the country is with beef products.
"We are no longer just a trend; we have become a reality from which positively there is no way back. People are increasingly looking for more sustainable food alternatives."
After the initial launch of the Futuro Burger in Rio and Sao Paulo, the company has expanded from two restaurant customers to 100, and now has more than 1,300 points of sale in foodservice and retail channels, along with online frozen food suppliers. Distribution currently covers the south-east, south and north-east regions of Brazil across multiple states.
Retail customers include Carrefour, Makro and Pão de Açúcar. Leta added: "We have always had a very simple goal: to evolve with new generations (versions) and options of our meat and get to a volume that allows us to be cheaper than meat from animal origin. The first step has been given by creating a new category in supermarket fridges, placing our product side by side with animal meats."