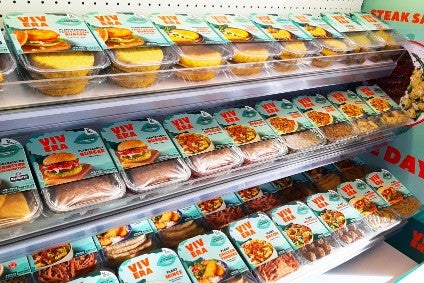 Brazil-based meat giant JBS has struck a deal to buy Vivera, in a transaction valuing the Dutch plant-based meat business at EUR341m (US$410.4m).
The agreement includes three production plants in the Netherlands and a research and development facility, JBS said in a statement provided to just-food today (19 April), adding the deal has been cleared by its board and is subject to approval from the relevant competition authorities.
JBS continued: "The acquisition of Vivera strengthens and boosts JBS' global plant-based food platform. Strong growth is expected in this category throughout global markets. The deal will add a brand to JBS' portfolio that is well-established in consumer preferences, strengthening the company's focus on value-added products."
A potential sale of Viveria, which supplies retailers in 25 countries in Europe, including the UK and Germany, was first mooted by Bloomberg late last week, quoting unnamed sources who said other parties were also interested in acquiring the Dutch business.
Vivera offers branded and private-label products and was backed by the Netherlands-based private-equity firm Gilde Buy Out Partners.
JBS said it will operate Vivera as a standalone business, with its leadership team headed by chief executive Willem van Weede to remain in place.
"Joining forces with JBS gives us access to significant resources and capabilities to accelerate our current strong growth trajectory and the Vivera brand expansion," van Weede said in the statement.
The Brazilian meatpacker is already the owner of meat-free brands. Its flagship Seara line launched the Incrível plant-based burger in Brazil in 2019, and the following year Colorado-based Planterra Foods, owned by JBS, instigated a wider rolled out of the Ozo brand in the US.
JBS' CEO Gilberto Tomazoni added: "Vivera will give JBS a stronghold in the plant-based sector, with technological knowledge and capacity for innovation. This acquisition is an important step to strengthen our global plant-based protein platform."
Vivera, founded in 1990 as Encko-Vivera, a traditional protein company with a presence in vegan and vegetarian products, went fully plant-based in 2019 when it sold the meat part of the business Encko to Dutch meat processor Van Loon Group. Vivera has a small presence in Brazil with a distribution agreement with meat giant BRF.
The company announced a plan last year to invest EUR30m in one of its Netherlands plants over three years in an effort to double the production of meat alternatives. Vivera is focused on the European markets, including the UK.