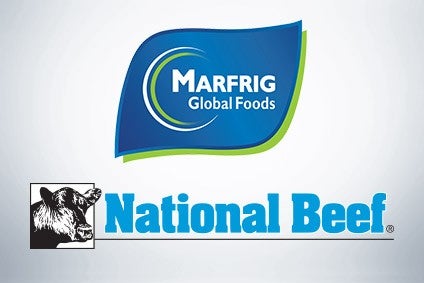 Brazilian meat processor Marfrig Global Foods has gained the necessary approvals for the purchase of a majority stake in National Beef Packing Company despite opposition from industry groups and US Senators.
Marfrig announced in April it was buying a 51% stake in the Missouri-based firm for US$969m. But the potential deal rankled the United States Cattlemen's Association and anti-trust body the Organisation for Competitive Markets, who were concerned about the increasing consolidation in the global meat industry, particularly from Brazilian beef producers.
Still, Marfrig informed shareholders via a statement today (6 June) of the "fulfilment of all precedent conditions and the closing of the acquisition", which according to a spokesperson includes approvals in the US and Brazil.
With the transaction now complete, even amid opposition from US Senators who called for a government review of the deal, Marfrig becomes the world's second-largest beef processor.
Marfrig also said today the acquisition was made through its wholly-owned subsidiary NBM US Holdings.
Back in April, Marfrig said the purchase of National Beef would broaden its geographic reach, with the deal part of its "sustainable growth strategy".