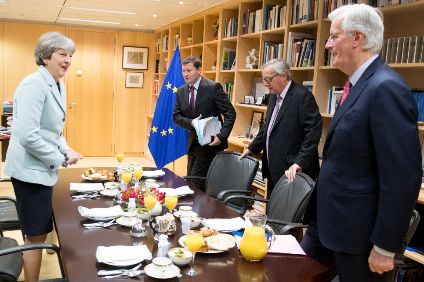 The British Retail Consortium has warned of the consequences on the UK food supply chain in the event of no deal being reached with the EU on Brexit, the so-called cliff-edge scenario.
In a letter to Prime Minister Theresa May and The European Commission's chief Brexit negotiator, Michel Barnier, the BRC says a failure to reach a Brexit deal will mean new border controls and multiple "non-tariff barriers" through regulatory checks, which would create delays, food waste and failed deliveries.
Quoting its own analysis, the trade association says the UK food and drinks sector would face an average increase in import costs from the trading bloc of 29% from non-tariff barriers given that Britain imports 50% of its food requirement, with 60% of that coming from the 27-member EU bloc.
And in the EU, GBP21bn (US$27.9bn) of exports to the UK are at risk should no deal be reached, the BRC says, adding one-third of the food eaten by the 65 million people in the country comes from EU farms and factories.
The UK officially triggers Brexit in March next year and has agreed a 21-month transition period running from 29 March to December 2020 when existing EU laws will continue to apply and the country's exporters maintain their current access to Europe. During that time, officials on both sides need to come up with a permanent arrangement.
"Time is running out," says BRC chairman Richard Pennycook, speaking with reference to the Conservative government's so-called withdrawal bill, which is under review in Parliament and will end the reign of EU law in the UK.
He adds: "We must avoid a cliff-edge scenario on the 29 March 2019 at all costs. Failure to achieve a smooth transition will create a lose-lose scenario for UK consumers and EU producers. Frictionless trade is essential if the industry is to continue to provide the level of choice and value in shops that UK consumers are used to seeing.
"It is now of the utmost importance that the UK Government proposes a workable solution to the backstop that gets the withdrawal agreement over the line and allows for a smooth transition. We need the EU to be flexible and creative in negotiation and recognise what is at stake for exports to the UK."
The BRC estimates more than 12,500 small retail businesses could go bust in the event of a no deal. The trade body noted 3.6 million containers from the EU passed through UK ports in 2016, delivering 50,000 tonnes of food.
"These well-established, just in time, supply chains are vital for providing choice and value to UK consumers, as well as protecting the livelihoods of tens of thousands of farmers and food producers in the EU," the BRC says.