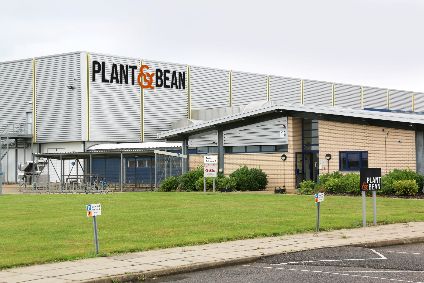 Plant & Bean, the UK-based meat-free venture between local manufacturer Brecks Foods and Thai group NR Instant Produce (NRF), is set to open the first of a number of new factories.
The facility, to be based in Boston in eastern England, is said by Plant & Bean to be "Europe's largest production facility". Plant & Bean, which already manufactures for branded meat-free businesses and produces private-label lines for retailers from a site in Yorkshire, is eyeing distribution across Europe.
The venture said the factory will have a planned initial capacity of 55,000 tonnes. A production facility is planned for the US next year and the venture is eyeing having manufacturing in Asia in 2022.
Plant & Bean CEO Edwin Bark, a former Nestle executive, argued the venture's production would help solve challenges weighing on what is a growing market for meat-free products.
"Right now, sixty-five percent of consumers do not eat plant-based meats due to price and quality. With our two-pronged approach, we believe we are best placed to make the meaningful change required to tackle these issues. With our progressive global manufacturing strategy, brands will finally have the means to scale high-volume product ranges in order to lower the price-point for consumers. As regards product quality, we are making huge strides in improving the taste, texture and appearance of plant-based meat – bringing together the brightest minds in the food industry to reinvent the way we make plant-based meat at the ingredient and process level."
Plant & Bean was formed when Brecks sold 25% of its meat-free division to NRF. The Thai firm plans to increase its stake in Plant & Bean to 50% next year.