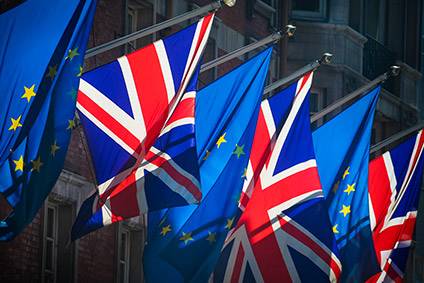 Business confidence in the UK food industry is on the wane, with the country's trade body citing Brexit as a factor in the growing anxiety among parts of its membership.
Asked about "general business conditions" in the third quarter of 2018 compared to the previous three-month period, some 41% said they had deteriorated, according to survey results published by The Food and Drink Federation.
That contrasted with 26% of respondents who had said in the second quarter business conditions had worsened versus the first three months of 2018.
The FDF said its survey had shown "net confidence" had fallen by 21 percentage points between the first quarter of the year and the third. The organisation pointed to the "increased cost of stockpiling for no-deal Brexit, decreased product margins and increased energy, packaging, and ingredients costs" as factors cited as "key impacts" on businesses in the third quarter.
Some 49% of those who had answered the FDF's survey thought business conditions had remained the same in the third quarter compared to the second, with 8% arguing conditions had improved.
Ian Wright, the FDF's chief executive, said: "These results tell us just how seriously the food and drink industry, the UK's largest manufacturing sector, takes a 'no-deal' Brexit. It is a grisly prospect to which we edge closer every passing day."
Wright said the UK Budget, announced on Monday, "offers some respite for our SME food and drink manufacturers", pointing to measures on productivity, exports, enterprise and investment
However, he added: "But there is significantly increased worry across the sector following the announcement of the Chancellor's new tax on plastic packaging. This will undoubtedly place many more financial burdens on UK food and drink manufacturers – that loads on cost at a time when just under three-quarters of our members report that their packaging costs are increasing. The storm clouds are gathering."