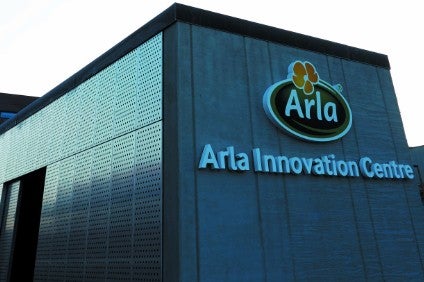 The impact the UK's vote for Brexit has had on currency, as well as pressure from commodity prices, has led European dairy giant Arla Foods to set out on cutting EUR400m (US$493.9m) on costs from its business.
The Castello and Lurpak owner has already embarked on the programme, which it said would "deliver a run-rate of at least EUR400m of savings by the end of 2020". It added: "The profit impact will build throughout the life of the programme."
Arla said it had started to plot the impact of the project, dubbed Calcium, since the end of 2017 but acknowledged the scope of the savings had been "increased" in recent months amid the challenges from the co-op's exposure to sterling and "unfavourable developments in commodity markets".
CEO Peder Tuborgh said: "At Arla Foods we have always had a culture and strong track record of creating efficiencies and removing costs for the benefit of our farmer owners, customers and consumers, so in that sense nothing is new.
"What is new, however, are two unexpected developments that have hit us, both of which are outside of our control. These are the currency impact of Brexit on our actual performance and the impact of the reversal in commodity prices on fat and protein on our relative performance against our international peers.
"These developments have negatively impacted our profitability, and as a responsible business we have to act to remove the impact of these new developments, and the action we are taking is a three-year transformation programme which cuts across our whole business and sets out to restore our profitability."
Arla said it was too early to say what impact the bid for savings will have on specific parts of the business, including on jobs.
It expects around EUR300m of the savings to move to the farmers behind the cooperative through the farmgate milk price paid by Arla. The remainder is to be reinvested "to fuel further growth and improve profitability", Arla said.