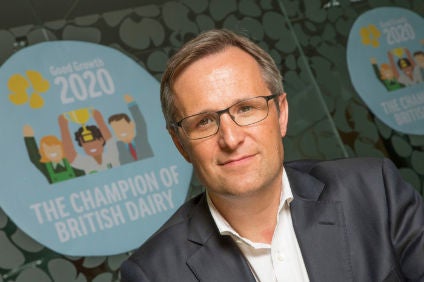 Tomas Pietrangeli, the managing director of dairy giant Arla Foods' UK arm, has said Brexit could result in a wealth of possible scenarios for the company, including moving production.
Speaking at the International Dairy Federation's (IDF) World Dairy Summit in Belfast, Pietrangeli said the industry was facing "the biggest seismic change in the political and financial landscape in our lifetime".
He said: "Brexit is immensely important to me and our business.
"So much has yet to be decided."
Pietrangeli revealed Arla, a dairy cooperative owned by 11,000 farmers from seven countries, has been planning for Brexit for some time and has a "dedicated Brexit team" which has been involved in detailed scenario planning and risk mitigation.
Asked to look into the post-Brexit future, Pietrangeli said: "There is a lot we can do but if we have to adapt to significant change that requires time.
"As a business we are hoping for the best but planning for the worst.
"In some areas we would potentially have to move production".
Pietrangeli said the UK dairy industry should be recognised as one of the key players in the Brexit negotiations (discussions on the terms of the UK's exit from the European Union).
"The end of free trade is a major risk. In order to protect the health of the dairy industry in the UK we need to have tariff-free and barrier free trading conditions. We are a business and an industry that make a significant contribution to the dairy industry and the wider UK economy," he said.
An economic impact assessment of Arla's UK business, highlighted by Pietrangeli, showed that the company generated GBP6bn (US$7.97bn) gross value added to the UK and direct and indirect jobs totalled nearly 120,000.

Pietrangeli called on the UK Government to publish its future plans for agriculture in the UK through a parliamentary bill "at the earliest opportunity early next year", adding that any delay would be detrimental to the industry.

He said: "We need to have the best possible trading conditions with the EU. We need to get Brexit right. Trade with the EU is the most important market for UK dairy businesses and UK dairy should be recognised as a key player in Brexit negotiations. We do not want to see a situation where dairy businesses come under pressure because of restrictions on trading conditions."

Turning to the scenario of a no deal or a default to World Trade Organisation tariffs, Pietrangeli said: "If we had a no deal and there is no transitional agreement in place, that would have potentially much bigger implications for the dairy industry and, ultimately, UK consumers. It would likely lead to a WTO default position where dairy tariffs are high in a low-margin industry."