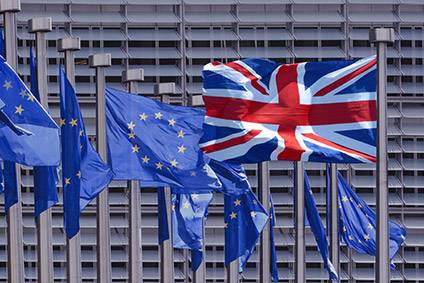 The London School of Economics (LSE) has suggested post-Brexit trade restrictions have accounted for a third of the food price increases seen in the UK since 2019.
The UK voted to leave the European Union in 2016 and its departure came into effect in 2020. Researchers at LSE have calculated the cost of the move to the country's households at £7bn ($8.66bn) based on the extra cost of trade barriers on food imported from the continent, according to a report from the University.
Brexit trade barriers include extra paperwork to validate goods at border points and veterinary checks on livestock.
The University's updated report on the impact of the UK's departure from the bloc – Brexit and Consumer Food Prices – found that trade barriers have hampered imports, pushing up household bills by an average £250.
It calculated the cost of food in the UK has increased by 25% since 2019 but if the post-Brexit trade restrictions were not in place then that would be only 17%.
Food and soft drinks inflation in the UK in the 12 months to the end of April was 19.1% – slightly down on March's rate – according to figures released by the Office for National Statistics yesterday (24 May). This compares to an overall inflation rate of 8.7%.
The LSE report suggests Brexit trade barriers are contributing to what recent data suggests is the highest food inflation rate in the industrialised world.
The report noted: "Brexit continues to affect the UK economy."
It added: "Between January 2022 and March 2023, the price of food products that were more exposed to Brexit, due to their reliance on imports from the EU before the referendum, increased by approximately 3.5 percentage points more than those that were not.
"These changes were entirely driven by products with high non-tariff barriers. Food products which fall into this category, such as meat and cheese imported from the EU, have seen price increases in the region of 10 percentage points higher relative to similar products which were not exposed to Brexit since January 2021."
Just Food asked the UK's Department for Environment, Food and Rural Affairs (Defra) for its response to the report.
A spokesperson said: "We recognise the impact high food prices are having on household budgets, which is why we have a plan to more than halve inflation this year.
"We are also providing significant support over this year and next – worth on average £3,300 per household – which includes direct cash payments to the most vulnerable households, as well as uprating benefits and the state pension by 10% this year."