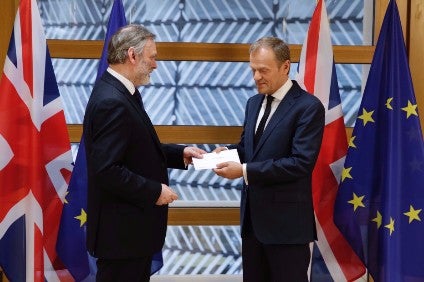 Food companies on both sides of the English Channel are set to feel the brunt of "more costly" trade once the UK leaves the EU, even if a "customs union" is negotiated, according to a new report.
Research from the Netherlands-based financial services company Rabobank – released today (29 March) as UK Prime Minister Theresa May triggered Article 50, formally starting the UK's departure from the EU – studied the potential "winners and losers" on both sides in future trading scenarios.
However, Rabobank warned it could "already identify some losers irrespective of the scenarios" and provided an estimate of the cost for food companies in the UK and the EU of continuing to export.
EU food companies, Rabobank argued, would face new customs controls in selling to the UK, which the report estimated as "comparable to a 5% to 8% import tariff… especially impacting exports to the UK of finished or semi-finished products based on imported raw materials", such as tropical fruits, coffee and cocoa.
"These exporters will face increased competition from British processors who can source these raw materials directly and, as a result, do not face border issues after processing," the report said. However, Rabobank said UK food exporters to the EU would "face the same increased costs when exporting to the EU market".
UK food companies – and consumers – would face extra costs, Rabobank's report predicted. The impact of the weakening pound since the UK voted to leave the EU has so far been "relatively muted", Rabobank suggested.
Prices have been protected by currency hedges, which are "only now unravelling, while long-term retail contracts have suppressed prices and have led to a reluctance of British retailers to increase prices", the report said. It added: "In the long run, food inflation can be expected to rise due to the weakening of the British pound and the deteriorating terms of trade for the UK."
Analysing the possible impact on specific categories, Rabobank said fresh products such as fruit and vegetables "for which the UK has no alternative" but to source from EU countries, "will be impacted" whatever the trading scenario.
Imports of agri-commodities such as meat and dairy are currently, "for the most part", imported from the EU, but imports would decline under a protectionist scenario "while third countries will not be able to fill the gap due to the same trade restrictions", the report said. "In the free trade scenario, EU exporters "will suddenly face competition from third countries on the British market".
On further-processed products, some existing EU assembly plants could relocate to the UK because EU import tariffs are "typically structured in such a way that further-processed products receive higher import protection than raw materials", the report said. However, "labour availability also has to be taken into account".
Commenting on today's triggering of Article 50, the director-general of the UK's Food and Drink Federation, Ian Wright, said the move "provides us with a definitive timeframe for the UK to exit the EU and the clock is ticking". "It is vital that the government prioritises food and drink."
Mella Frewen, director-general of FoodDrinkEurope, the organisation representing food manufacturers operating in the EU, said food and drink trade between the remaining 27 EU member states "is worth some EUR45bn (US$48bn), making it our largest trading partner". "Exchanges both ways will be greatly affected by (today's) decision, with economic consequences which still remain to be fully understood."