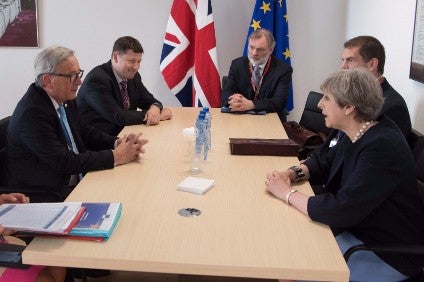 UK Prime Minister Theresa May has tabled what she has called a "fair and serious offer" to the EU on the status of the bloc's citizens in the country post-Brexit.
Around 3m EU citizens live in the UK and those who had resided in the country for five years would be granted "UK settled status", which would give them rights to access services such as health and education.
The offer is contingent on EU member states giving UK citizens living in the bloc the same rights.
"The UK's position represents a fair and serious offer, one aimed at giving as much certainty as possible to citizens who have settled in the UK, building careers and lives and contributing so much to our society," May said.
However, the UK Prime Minister has yet to set out when the deadline for securing the new UK settled status would apply, although it would be no later than March 2019, when the country is expected to leave the EU. More details are expected to be revealed on Monday.
German Chancellor Angela Merkel reportedly said the offer was "a good start" as the UK and EU come to the end of their first week of formal discussions on Brexit.
Food manufacturers in the UK, which see EU-born workers constitute a significant part of their workforce, welcomed May's offer.
Ian Wright, the director general of trade body the Food and Drink Federation, said: "FDF was the first trade association to call for the right to remain following last year's referendum result and have consistently made the case to ministers and officials, in the UK and EU. We employ 117,000 EU workers within the food and drink sector and they play a vital role in guaranteeing the success of the GBP110bn (US$139.98bn) farm-to-fork food chain. They are hugely valued, but in the past 12 months have lived under a cloud of uncertainty. It is time to allay their fears. We now look forward to further details from the Government on Monday and urge negotiators on both sides to resolve this matter swiftly."