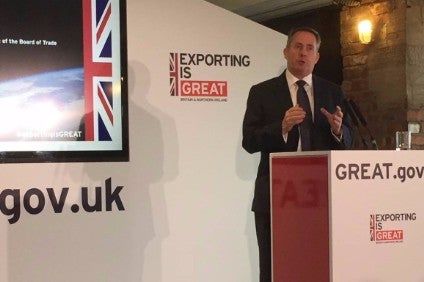 There is reported disagreement in the UK government over the prospect of imports of "chlorine-washed" chicken from the US entering the country under a post-Brexit trade deal between London and Washington.
The Sunday Telegraph yesterday (23 July) reported a "split" in the UK Cabinet on the issue. UK Trade Secretary Liam Fox is said to be ready to allow in the shipments. However, Environment Secretary Michael Gove is said to not to want UK food standards to be downgraded, the newspaper said. His predecessor, Andrea Leadsom, is opposed to the idea.
A spokesperson for Fox told the newspaper he currently had "no position" on chlorine-soaked chicken, insisting early talks between the UK and the US were a "long way" from discussing any deal on agriculture. The controversial chicken is more than a fifth cheaper than British reared birds and has been deemed safe by the European Food Safety Authority, despite the EU ban, the newspaper said. The European Union has banned the chicken amid criticism the US uses the process to hide poor hygiene on farms and abattoirs.
An official spokesperson for Prime Minister Theresa May said today the controversy was "hypothetical" and refused to say if she shared the trade secretary's views, The Independent reported.
"Our position, when it comes to food, is that maintaining safety and public confidence in the food we eat is of the highest priority," the spokesperson said.
Ben Bradshaw, a pro-EU Labour MP, said the UK seemed "so desperate for new trade deals to make up for some of the losses that they seem ready to compromise on the safety of the food we eat".
Other related concerns include the prospect of the UK allowing imports of hormone-fed beef and genetically modified crops, which are permitted in the US.
Meanwhile, the American Farming Association has made it clear that a free trade deal with the UK must include agriculture, and that exports of chlorine-soaked chicken, hormone-fed beef and GMO crops would need to be approved.
"The British media are obsessed with chlorine-washed chicken," Fox said in an interview in Washington D.C. today.