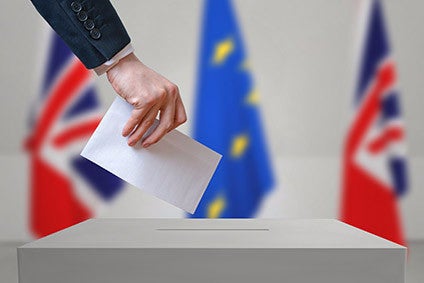 UK voters have spoken: Britain will leave the European Union. With the vote tally now reporting 51.9% of people back leaving commentators are turning to the future with uncertainty. What will Brexit mean for the food sector? We bring you rolling coverage of the response.
17:39 Mondelez and General Mills release short statements on Brexit
"We have prepared our business appropriately for the outcome of the referendum in the UK," Mondelez told just-food. "We are confident that we are well positioned as a business to navigate the consequences of the vote. As a business that sells products across the EU, we are closely monitoring the situation in terms of next steps. Our brands are much-loved by UK consumers and we remain committed to manufacturing in Great Britain."
Shares in Mondelez are down 4.87% at US$42.67 at 12:38 ET.
Its US peer General Mills made a similar statement through its northern European office. "General Mills has a strong track record of trading in the UK and we have been selling our products here since the 1960s. Together with our talented and dedicated employees we remain committed to the UK and will to continue to serve British consumers with foods they love, to innovate our product offering and to invest in the local communities in which we operate," the company said.
General Mills' share price, which like some of its peers tumbled in early trading in New York, had recovered most of the decline at the time of writing, down 0.12% at US$66.69 at 12:40 ET.
17:10 Irish eyes aren't smiling
We've now got reaction from an industry body in Ireland, which has the UK has its largest customer of food and drink products. The UK's departure from the EU "represents a significant challenge" to Ireland's agri-food industry, Bord Bia, the government agency that promotes the industry domestically and abroad, said this afternoon (24 June).
15:10 Rabobank gives early assessment of consequences of Brexit
In an exclusive column for just-food, analysts at Rabobank have outlined how they think the UK's departure could impact certain parts of the food sector.
14:26 How much exposure do US companies have to Brexit?
Analysts at US investment bank Sanford Bernstein have put out a note that seeks to answer that question.
"The more globally exposed names like Mondelez and Kellogg and companies with acquisitions in the European region, including Hain Celestial and WhiteWave Foods are most exposed to the UK and Western Europe," they wrote in a note to investors.
The analysts estimate around 30% of Hain Celestial's sales are in the UK, where it owns brands including Linda McCartney, Sun-Pat and Tilda. Next on the list comes Cadbury owner Mondelez International, which generates around 9% of its sales in the UK, followed by Kellogg (7%), WhiteWave Foods and Kraft Heinz (both at 4%) and McCormick and General Mills, which has around 3% of sales in the UK.
14:17 Greencore will "navigate through what will be a period of uncertainty"
Patrick Coveney, the chief executive of Ireland-based food-to-go manufacturer Greencore, had been one of the more vocal advocates of the UK remaining in the EU.
Greencore was among the UK-listed companies that saw its share price slide today as the market reacted to the result.
Approached this afternoon for comment, Greencore sought to adopt a can-do tone. The company said it is "a highly adaptive business that is well-used to mitigating the impact of complex and rapid changes in our markets". It added: "We have a robust underlying business, a strong pipeline of new revenue opportunities and, in food-to-go, are focused on a segment of the market that benefits from fundamental and long-term growth drivers. It is too early to speculate on what the specific implications will be, but we will move quickly and positively to ensure that we successfully navigate our way through what will be a period of uncertainty for the whole industry."
14:04 Quorn Foods' CEO assesses Brexit result
A chief executive of a significant – and growing – UK-based business has given his reflections on the vote to just-food.
"Like everyone we are digesting the impact of the result. Clearly remaining would have provided greater clarity and less uncertainty," Quorn Foods CEO Kevin Brennan.
When in February just-food weighed up what impact a Brexit vote could have, Brennan said Quorn Foods, owned by Philippines group Monde Nissin, wanted the UK to remain in the EU. "Europe is our largest export market with huge potential. A move out of the EU would undoubtedly make expanding this business more difficult so we are strong supporters of staying in the EU."
In the immediate aftermath of yesterday's vote the chief executive of the meat-free products maker tried to strike a more upbeat tone. "We are confident that trading solutions will be found between UK and EU over the next two plus years that will enable us to continue to grow our business in this region as well as elsewhere."
12:16 German food and drink body "disappointed"
The Federation of German Food and Drink Industries (BVE), which had urged the UK to remain part of the EU, said it was disappointed with the decision. "It's still early days to absorb the decision and we will need to fully consider what the decision means for our members", a spokesperson said.
10:58 "Life goes on," says UK health campaign group
Action on Sugar, the UK-based campaign group, has been to see government officials this morning.
Life goes on. Been at Treasury this am discussing #sugarydrinks levy + reminding Govt 2 publish its childhood obesity strategy asap #Brexit

— Malcolm & CFC team (@Childrensfood) June 24, 2016
10:34 UK dairy companies touts industry's "resilience"
A less gloomy statement from Dairy UK, the trade association of the country's dairy sector.
"The UK dairy industry is adaptable, resilient and determined, with the skills and innovation to rise to the many challenges we encounter. Dairy UK did not take a side in this debate because we knew that regardless of the result, we would continue to operate in a global dairy marketplace and demonstrate our unwavering commitment to give the public nothing but the best of UK dairy," Dr Judith Bryans, chief executive of Dairy UK, said.
"Dairy UK will continue to liaise with the UK Government, devolved administrations and all relevant organisations to promote the interests of the UK dairy sector and help to steer our industry in the right direction. We have an outstanding UK industry producing world-class products and our people have the ambition and the determination to succeed."
10:31 European reflections on potential political impact in UK of Brexit
It appears the possible ramifications of Brexit to the UK itself is being chewed over across the Channel. Dirk Jacobs, deputy director-general of FoodDrinkEurope, is one seemingly weighing up what could happen next.
From United Kingdom to Divided Kingdom? https://t.co/1ZQ9rkEnC2

— Dirk Jacobs (@DirkJacobsEU) June 24, 2016
09:59 Europe's dairy companies evoke Nelson Mandela
After what seemed a sanguine statement from the European Dairy Association's secretary general earlier (see below), the organisation's Twitter feed appears more reflective.
"None of us acting alone can achieve success" Nelson Mandela pic.twitter.com/Cq4W3X3k0z

— EDA_Dairy (@EDA_Dairy) June 24, 2016
09:25 – Europe's food manufacturing association reflects on result
The UK's departure from the EU is "a blow" that will have an impact across the bloc, FoodDrinkEurope, the trade body for the European food and drink industry, has claimed.
09:12 – Unilever CEO Paul Polman takes to Twitter
The most important thing to have long term prosperity is to accept the will of the people and respect democracy.Now we all need to unite.

— Paul Polman (@PaulPolman) June 24, 2016
08:52 – UK food stocks hit amid Brexit turmoil
Shares in UK-listed food makers were hit this morning (24 June) by wider turmoil as the market reacted to the news that the UK will leave the EU.
The UK's largest listed food makers all saw points trimmed off their market value in early trade today, with Greencore witnessing the fastest of food sector declines on the London stock exchange.
At time of press, Greencore shares had fallen 14.46% to 273.8 pence. Shares in other food makers were also down: Premier Foods plc shares dropped 4.88%, while meat processors Cranswick and Hilton Foods declined 6.82% and 2.15% respectively. Associated British Foods' stock was down more than 3.5% at the time of writing. Shares in Unilever saw the least reaction, dipping 0.56% in London.
Investors are concerned about the impact of Brexit on consumer sentiment in the UK as well as how it will affect food exports, with the EU accounting for the majority of UK food sales overseas. There is also uncertainty about the impact of foreign exchange, with the pound hitting a 30-year low this morning.
By 9.01 the FTSE100 index had declined 4.94% while the FTSE250 index was down 7.95%, reflecting the expectation that smaller firms will be hardest hit by the fallout from Brexit.
08:51 Denmark's food makers calls Brexit "highly worrying" – but say Brits will still want Danish bacon
Karen Hækkerup, CEO of the Danish Agriculture & Food Council, issues a mixed statement on Brexit.
"It is highly worrying that the Brits now leave the EU. However, I still believe there is a market for Danish bacon in the UK as the UK today is far from self-sufficient in agricultural products. We now have to try to work out agreements ensuring the export of bacon and other foodstuffs in the future. It is not going to be an easy job," Hækkerup said.
However, she added: "Denmark has exported foodstuff to Britain for decades and we have all reason to believe that the Brits will continue to import Danish products. We know that Brits love their Danish bacon and we will love to keep selling it to the UK but the Brexit is a blow to Danish exports. DAFC now calls on the British government to ensure that necessary trade agreements are made as quickly as possible in order for Danish businesses avoid extra costs and more paper work in the future."
08:34: how could Brexit affect the UK foodservice sector?
Horizons, the UK-based foodservice consultantcy, has published ts view.
"Notably for foodservice, the pound will remain volatile and will trade at lower rates than over the last few years. Consumer sentiment will probably remain depressed, costs will be elevated, and there will be some uncertainty over employment because of our reliance on European labour," Peter Backman, Horizons' MD, said.
"The foodservice sector will be less buoyant than it would have otherwise been ? but the impact is likely to be felt differently in different areas of the business. Sectors that could benefit include tourism-related business including hotels and leisure, while restaurants, QSR and pubs could lose out. However, profitability, and therefore investment in the sector, is now under threat.
"Overall we could be facing reduced sales, increased costs and lower demand from the home market and while this could be offset to a small degree by more foreign tourists coming here due to the fall in the value of the pound, the eating out market now faces less growth than we predicted for this year and next.?"
08:28 David Cameron resigns as UK Prime Minister
Prime Minister David Cameron has resigned in the wake of the UK referendum result that saw a majority of the British public back exiting the EU.
The leader of the 'remain' campaign, Cameron conceded that there can be "no doubt about the result" in an emotional speech outside Downing Street.
"The British people have made a very clear decision… I think the country requires fresh leadership. I do not think I can be the captain to take the country to its next destination," Cameron said.
Looking to the future, he observed: "This will require strong, determined and committed leadership."
The Prime Minister and cabinet will meet on Monday (27 July) when a timetable for his departure down will be drawn up. Cameron said he expects a new leader to be in place by the Conservative conference in October.
08:22 – FDF pledges to "work through" a "very challenging" period
The Food and Drink Federation, the industry body that represents the UK food manufacturing sector, has pledged to work with the government to navigate what it described as a "very challenging period that we face".
Commenting on the UK's vote to leave the EU, FDF director general Ian Wright reiterated that UK food makers were in favour of remain. "In March we released the results of a poll of our members which showed 70% support for Britain to remain in the EU. It's inevitable in the light of those results that the majority of FDF members will regard this as a disappointing result for the food and drink industry."
However, turning to the future, Wright insisted that the FDF would support government efforts to map out a path for the industry moving forward. "Now FDF will work on behalf of our members and all those across our industry to find a way through this very challenging period that we face. We'll focus on working with the government to understand what this means for trading, market access and regulation to secure the best outcome for British food and drink manufacturing businesses and their consumers."
08:17 – Farmers' Union warns action needed to stave off uncertainty
The National Farmers' Union, the union representing UK farming interests, has warned that the UK's vote to leave the European Union will lead to a "period of uncertainty" and called on the government to act quickly to "ensure British farming is not disadvantaged".
NFU President Meurig Raymond said: "The NFU will engage fully and constructively with the British government to construct new arrangements. This needs to happen as soon as possible."
Acknowledging that it will "take some time" to deliver a new framework, Raymond nevertheless insisted that urgent remedies must be saught. "Our members will rightly want to know the impact on their businesses as a matter of urgency. We understand that the negotiations will take some time to deliver but it is vital that there is early commitment to ensure British farming is not disadvantaged. It is vital that British farming is profitable and remains competitive, it is the bedrock of the food industry – Britain's largest manufacturing sector."
The NFU has called an extraordinary meeting of its governing body, next Friday (1 July).
08:08 – Brexit 'could trigger food sector M&A' – analyst
The fallout from Brexit is likely to put pressure on food makers in the UK and Ireland, potentially increasing consolidation in the sector and opening the door to international takeovers, one analyst has suggested.
According to Jon Cox at Kepler Cheuvreux, the weakness of the sterling could make UK-based companies appealing takeover targets for international firms. "Given likely sterling weakness and pressure on UK/Irish exporters, this could potentially trigger more M&A in the space (given the emergence of the 3G business model of M&A/cost cutting led earnings growth in North American food)," Cox wrote in an analyst note this morning.
07:57 – Europe's dairy association sanguine about Brexit
Speaking to just-food, Alexander Anton, secretary general of the European Dairy Association, sees a change in the economic and political centre of the EU but he sought to emphasise how UK and European dairy companies could continue to trade.
"The UK dairy industry is competitive and resilient and will remain at domestic and at European/international level a driving force of our sector. The negotiation process for getting all details ruled out will take some time and during these two years we will work together with DairyUK to make sure that the – very, very much interlinked – EU and the UK dairy industry will not be exposed to any potential negative impact of the decision taken yesterday by the people of UK vis-à-vis the institutionalized EU," Anton said.

"In any case, the UK is and will remain – as all EU Member States and the Union as such – a WTO member and hence we see a good common basis for our future dairy trade relationships at basically the same level than today."
He added: "From an overall political point of view, the landscape in the EU will change and the economic and political centre of the Union will move a bit more south. Especially within the framework of the Common Agricultural Framework, this might be felt even before we discuss the CAP post-2020."
07:50 – a carefully-worded statement from Nestle
The world's largest food maker, with operations across Europe, issues a short statement on Brexit.
"We note the outcome of the referendum in the UK and the decision of the British electorate to leave the European Union. The practical consequences of this decision will become clearer in the coming months. Nestle will continue to operate in the normal course and will follow developments closely."
07:45 – Pound falls to 30-year low, food prices set to rise
The value of the pound fell sharply as it became clear that the UK has voted to leave the European Union. Declining around 10% the sterling-to-dollar exchange rate now stands at GBP1 to US$1.37 while GBP1 is worth EUR1.24.
With Britain producing little over half the food it consumes – and trade with Europe providing more than one quarter of the rest – the dramatic change in foreign exchange could lead to higher food prices.
"In early trading the pound has fallen to a 30-year low which in part is likely to reflect an interest rate cut being priced into markets. A weaker pound will put intense pressure on import costs with shoppers likely to see the initial impact in the way of higher food prices given shorter supply chains," Richard Lim, chief executive of Retail Economics, forecast this morning.
Lim warned that consumer confidence in the UK will now be "choked" by "volatility and fear".
06:54 – Unilever, vocal advocate for Remain, coy as Brexit confirmation nears
The consumer goods giant had been at the forefront of those in the business community who wanted the UK to stay in the EU and insists it is "really too early to comment" on how Brexit could affect its operations in the UK and Europe.
"It's still early days. We are currently not commenting," a spokesperson for Unilever told just-food. UK broadcasters have called the result as exit, although we still wait for the country's Electoral Commission to make the official announcement.
You can read the comments Unilever CEO Paul Polman made last month on the prospect of Brexit here.