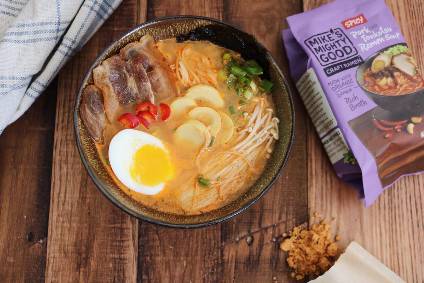 US business Bright People Foods is preparing for the nationwide roll out of its new instant noodle brand, Mike's Mighty Good Craft Ramen, later this year.
Key unique selling points for Mike's Mighty Good Craft Ramen, Carolyn Vinnicombe, head of sales and member of the founding family at Bright People said, are the quality and values that Bright People bring to the table. "We are making our own organic noodles from scratch, every day in California, so what you are tasting here is made in Woodland, in Yolo County, where a lot of organic agriculture is grown in California. We wanted to bring people the best ingredients so we are not using any palm oil, we are using organic ingredients, simple ingredients, we are not sourcing GMOs. We are doing ramen the right way."
Vinnicombe said the value of the Mike's Mighty Good Craft Ramen brand also lies in the relationship the company is forging with consumers. "People want brands that they can trust. People want to know who is making their food. We have the trust of our consumers. We want to bring people good ingredients but also let them know that there are real people that have strong values making their food."
Bright People Foods is planning to get its message – which centres on the quality of its product and the ingredients that go into it – out to consumers via social media as well as an extensive point of sale marketing campaign, slated for later in the year. "We have relationships with bloggers across the US, we are doing recipes on our website, turning up the dial on our social media campaign. We are also doing a lot of cooking demos at retailers across the US. We want to show people exactly how to make the ramen bowl of their dreams in just minutes. We think the ramen bowl could be the new smoothie bowl."
The company, which showcased its products at the Natural Products Expo West trade show last month, expects Mike's Mighty Good Ramen to hit shelves throughout the US in June. The group has already secured listings with the likes of Whole Food Market and is in discussions with other retailers. "We have had the most amazing response," Vinnicombe said.
Mike's Mighty Good Ramen appeals to both snacking and meal occasions, Vinnicombe explained.
"We view ourselves as partners in cooking, we want to bring a gourmet experience to everyone. Really, we want to raise the calibre of food out there. We get excited and we are motivated by people experiencing a mindful moment in their daily lives, a quality of food that they haven't been able to have before. We understand that people are busy but that people also want to have the best food possible," she explains. "We have actually made a cookbook. With just a few simple ingredients you can make ramen for lunch, for dinner, as well as a healthy snack."
Mike's Mighty Good Craft Ramen will be rolled out at a price point of US$2.39 per cup, which Vinnicombe said reflects the brand's premium quality while remaining affordable.