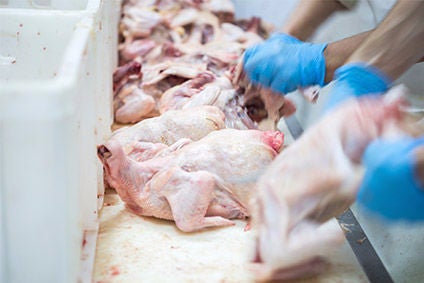 The British Poultry Council has rejected the prospect of US shipments of chlorine-soaked chicken being included in a post-Brexit trade deal between Washington and London.
The idea US chlorinated chicken imports could be allowed into the UK under a new trade deal between the two countries has sparked a split in the UK government on the issue, according to weekend newspaper reports. While chicken soaked in chlorine is allowed in the US and the practice has been deemed safe by the European Food Safety Authority, the European Union has banned imports. UK Trade Secretary Liam Fox is said to be ready to allow such shipments into the UK, a move said to be opposed by Environment Secretary Michael Gove amid fears British food standards will be downgraded.
"The UK poultry meat industry stands committed to feeding the nation with nutritious food and any compromise on standards will not be tolerated", Richard Griffiths, CEO of the British Poultry Council, said in a statement posted on its website. "A secure post-Brexit deal must be about Britain's future food security and safety", he said.
The BPC stressed the importance of supporting British farmers. "We urge the government to show confidence in our world-leading food safety standards by backing British farming and cherishing its success."