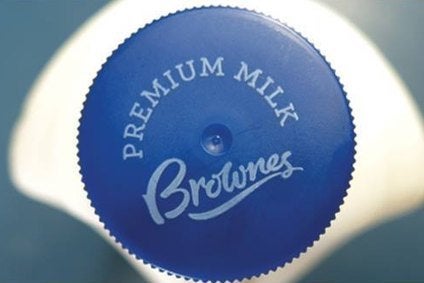 Australian dairy group Lion and Chinese giants Bright Food and Fosun are reported to be among eight parties that have expressed interest in buying Brownes Dairy, the Australian dairy business.
Another Chinese group, New Hope Dairy Holdings, as well as Philippines-based food company Monde Nissin are also eyeing Brownes, a report in The Australian newspaper said yesterday.
It was reported last month Brownes Dairy had been put on the block after owner Archer Capital, the Australian private-equity firm, had received interest in the business.
The Australian said offers for Brownes Dairy are expected to be in at the end of the month. Bids are likely to be between A$130m (US$92.6m) and A$150m, the publication noted.
Officials for Archer Capital could not be reached for immediate comment.
Lion, the owner of brands including Dairy Farmers milk and Dare iced coffee, refused to be drawn on the report. "We prefer not to comment on speculation concerning market movements," a spokesperson said.
Bright Food already has an interest in Australia's food sector, owning local group Manassen Foods since 2011.
Fosun is a Chinese conglomerate with assets in insurance, asset management, steel, pharma and property.
New Hope Dairy Holdings, based in Chengdu, supplies meat, egg and dairy products in China.
Archer Capital acquired Brownes Dairy in 2011 from Fonterra.
Speaking to ABC last month, Brownes Dairy managing director and chief executive Tony Girgis was sanguine about whether the business was up for sale.
"Private equity are in the business of buying businesses in varying industry and hopefully grow them and sell them for profit. I don't know how much credence is in the article, there's been several from time to time. Given my experience and background, we don't pay too much attention to them because until there is someone in front of you with a cheque on the table, it's just talk," Girgis told the broadcaster.
"Will Brownes be sold at some stage? Most likely yes. When and to whom and for how much, I have no idea. When the stars align it will happen. It will be good for the supplier base and staff. Certainty is good and no-one likes uncertainty."
Girgis joined Brownes in March and said the company had moved from becoming a "confused" business to a more "focused" entity.
Brownes worked on its portfolio, trimming some low-selling SKUs, while recently launching a yoghurt range to try to rebuild its market share in a key category for the business.
Girgis also told ABC Brownes is looking to rewrite contracts with suppliers to help the company focus more on products including yoghurt.