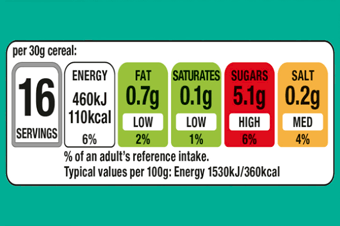 The European Commission has said it is formally opening infraction proceedings against the UK for its traffic light food labelling system.
Earlier this year EU member states said the Commission should examine the front-of-pack labelling system following complains from Italy.
Rome argued the labels undermine the principles of the EU's internal market. It claimed the "hybrid" scheme affects the free circulation of goods in the EU, as well as the correct information for consumers.
The Commission has now sent the UK a letter requesting it "submits explanations concerning different potential issues arising from the development of the guide".
A spokesperson for the Commission told just-food today:"The Commission has decided to seek information from the UK about [the] front-of-pack nutrition labelling requirement for pre-packed food products in the UK, following received complaints from food and retail companies and representative organisations asserting that the use of such labelling would negatively affect the marketing of several products.
"The concern is that the manner in which the front-of-pack labelling scheme was developed, and more specifically its correlation with the traffic light system, is likely to make the marketing of some products more difficult and thus hinder or impede trade between EU countries."
The UK's front-of-pack labelling scheme was introduced last June and showed how much of the maximum daily intake a portion accounts for. The label uses a red, amber or green colour-coding system, based on the level of a nutrient per 100g, not per portion – unless the amount in a portion exceeds 30% of the reference intake.
At the time of launch UK public health minister Anna Soubry said the new "consistent" label would mean consumers "find it easier to make healthier choices about the food they eat".
The Commission spokesperson told just-food it "fully shares" the objective of public health and fight against obesity of the UK government.
However, the spokesperson added: As the guardian of the treaties, the Commission is looking for the most appropriate and the less trade restrictive means to achieve this objective, while preserving the achievements of the internal market and preventing obstacles to free movement of goods."
The Commission expects the UK to respond to its request within two months.