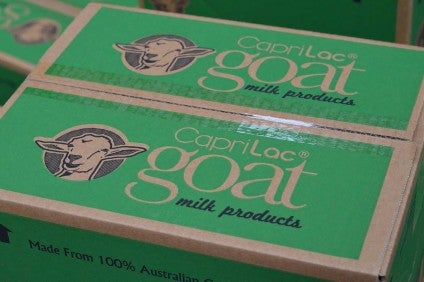 Bubs Australia, the infant formula and baby-food business, has struck a deal to buy local dairy group NuLac Foods.
The cash-and-shares transaction – which Bubs Australia chief executive Nicholas Simms said was "transformative" – is set to give the company a range of dairy and dairy-free products sold under brands including the CapriLac goat's dairy portfolio and Coach House Dairy flavoured milks.
The acquisition will also see Bubs Australia buy a 49.9% stake in the dairy facilities manufacturing NuLac Foods' products, such as Uphamgo Australia. Bubs Australia said Uphamgo had been certified by China for adult goat milk powder and other related dairy foods.
Bubs Australia has agreed to pay AUD25m (US$19.1m) in cash, a further instalment of up to AUD13.4m over two years if certain performance targets are met and a stake in itself of 19.99%.
The deal is dependent on two share offers Bubs Australia plans to conduct and for which it needs the support of investors. The company announced plans for an international institutional share placement to raise AUD15m. The group plans to carry out another placement for its investors in Australia and New Zealand to raise a further AUD5m.
If the transaction is completed, Bubs Australia will buy NuLac's sales and marketing functions, IP and brands. It will enter a tolling agreement with the milk processing venture in which it will have the 49.9% stake. Bubs Australia will also have a call option over an Australian farm operating company and associated goat farms.
Simms said the deal would see "Bubs controlling its own destiny". He added: "This has been uppermost in our minds on our strategic journey and this transaction represents an important step in our efforts to expand our domestic and China business. The acquisition provides a pathway for Bubs to secure its source of goat's milk for our premium infant formula products. The combined strength of the organisations will deliver a highly compelling proposition and accelerate our collective growth in our domestic markets and in China and south-east Asia."
Bubs Australia was formed last autumn after Australian baby food firm The Infant Food Holding Co., the owner of the Bubs Organic brand, was acquired by local litigation funder Hillcrest Litigation Services in a reverse takeover.
NuLac's co-founder and CEO, John Gommans, is set to join the Bubs Australia board. He said: "This is an exciting opportunity for NuLac, which, while growing strongly, will benefit from ownership by an ASX-listed company with access to development funding sources not previously available to us."