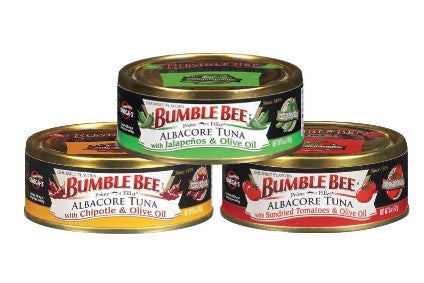 Chris Lischewski, the chief executive of US-based seafood supplier Bumble Bee Foods, has stepped down temporarily to fight allegations of price-fixing.
Last week, the US Department of Justice said Lischewski had been indicted by a federal grand jury in California for "participating in a conspiracy" to fix prices for packaged seafood sold in the country.
Today, Bumble Bee said COO Jan Tharp would fill in as the company's interim chief executive.
"Following last week's indictment announcement by the US Department of Justice, Chris Lischewski has taken a leave of absence to defend himself from the accusations made against him," Bumble Bee said in a statement.
"Bumble Bee has succession plans in place in the event a member of the senior leadership team temporarily or permanently leaves their position. Our Board of Directors worked diligently to ensure continuity in the company's leadership. Effective immediately, Jan Tharp, who has served as our chief operating officer for the last six years, has assumed the role of interim CEO of our organisation."
The US Department of Justice said in a filing earlier this month (16 May) the charges relate to price fixing that began around November 2010 and lasted through December 2013.
Lischewski is the fourth person to be charged as a result of the ongoing federal antitrust investigation into the packaged seafood industry, which is being conducted by the Antitrust Division's San Francisco Office and the FBI's San Francisco Field Office, according to the DoJ.
Late in 2016, senior vice-president of trade marketing Kenneth Worsham became the second Bumble Bee executive to plead guilty for his role in the canned tuna pricing conspiracy, joining senior vice-president of sales Walter Scott Cameron. And last year, former StarKist senior VP of sales Stephen Hodge also pleaded guilty to the same charges.
In its statement today, Bumble Bee added: "As previously mentioned, we have implemented new guidelines and internal policies over the past year and a half as a result of this investigation, through the leadership of our chief compliance officer. We are committed to act with integrity and transparency in every way we operate our business."
The DoJ has noted an indictment "merely alleges that crimes have been committed, and all defendants are presumed innocent until proven guilty beyond a reasonable doubt".
According to the DoJ's latest filing, Lischewski carried out the conspiracy by agreeing to fix prices during meetings and other communications. His co-conspirators issued price announcements and pricing guidance in accordance with those agreements.
Lischewski's attorney, John Keker, was quoted last week as saying his client was innocent.
"When the facts are known and the truth emerges, Mr Lischewski will be found not guilty, and that vindication will rightfully restore his good name," Keker said, according to Reuters.