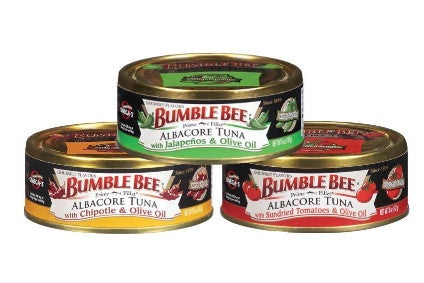 US seafood supplier Bumble Bee Foods is reportedly considering Chapter 11 bankruptcy as an option to relieve its financial stress connected to a guilty plea to a government price-fixing charge.
The San Diego-based business was among the companies investigated for alleged price fixing that occurred from 2010 to 2013 along with StarKist, the US seafood unit of South Korea's Dongwon Group. Bumble Bee chief executive Chris Lischewski stepped down in May last year having been indicted by a federal grand jury in California for "participating in a conspiracy" to fix prices for packaged seafood.
Bloomberg reports, citing people familiar with the proceedings, the prospect of a court-supervised restructuring under Chapter 11 is among several options being evaluated, with a sale of the business another possibility. But the people, who asked not to be named, said potential buyers would have to deal with the aftermath of the legal proceedings, which are still ongoing.
Bumble Bee is also facing a cash squeeze, according to Bloomberg's sources. Class-action lawsuits related to the antitrust case have increased its potential liability, while the company is also encountering claims it mislabelled products as dolphin-safe, they said.
The seafood supplier has also exceeded the maximum leverage ratio allowed under its senior debt facility, a US$650m term loan due in 2023, one of the people told Bloomberg.
Bumble Bee had not replied to a request for comment by just-food at the time of writing, while Bloomberg said a company spokesperson declined to comment and its private-equity owners Lion Capital did not respond.
At the time of sentencing, Bumble Bee claimed it could not afford to pay a revised fine of $25m without risking insolvency after the US Department of Justice cut the amount from $81.5m, according to Bloomberg. The fine would revert to the original sum in the event the company was acquired within five years, the news agency said.
The company has been working on a stabilisation plan with its lenders, Bloomberg added. Meanwhile, Lischewski, who was replaced by interim CEO Jan Tharp, is set to stand trial in November. He has pleaded not guilty to the charges.