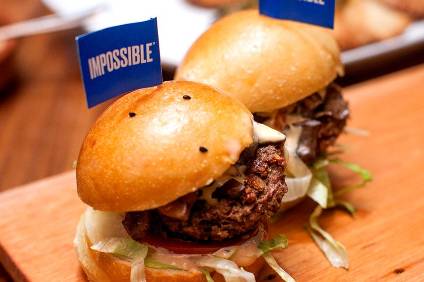 Burger King has decided to use Impossible Foods as its plant-based burger supplier in the US, meaning the fast-food giant will replace MorningStar Farms ' veggie burgers, supplied by Kellogg.
The move follows a successful roll-out of the plant-based Impossible Whopper at Burger King outlets earlier this year.
Joe Cil, CEO of Burger King's parent, Restaurant Brands International, told news outlet Bloomberg that over time in the US, Burger King would have one alternative-protein offer.
"Right now it's Impossible, and we're transitioning out of the Morningstar product," he told Bloomberg.
The Impossible Whopper boosted Burger King's sales in its latest quarter.
In the release of Restaurant Brands third-quarter results, Cil, speaking about Burger King, said the company had seen "the successful launch of our Impossible Whopper driving 5% comparable sales growth in the US, our strongest level since 2015".
Meanwhile, Bloomberg quoted Wendy Davidson, president of Kellogg Specialty Channels, as saying the company is confident in its Morningstar brand's portfolio, which includes the new plant-based line Incogmeato.
"Morningstar Farms consumption continues to grow," she said.