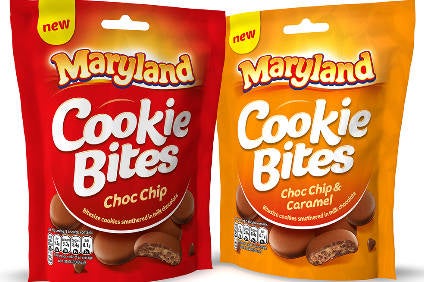 UK-based Burton's Biscuit Co. has moved into the sharing segment with the launch of bite-sized cookies under its Maryland brand.
The new milk chocolate-coated Maryland Cookie Bites will be available in Choc Chip and Choc Chip Caramel varieties when they are rolled out across the UK from mid-February in "share-pack" pouches, Burton's announced yesterday (3 January).
Burton's head of category and shopper management David Costello said: "Biscuits shoppers are highly impulsive and are increasingly looking for an indulgent evening treat that can be shared with family or friends at home." He said the new product would meet "the growth in consumer demand for treatier biscuits that can be enjoyed as part of a night in. We've all heard of 'big night in', but 'not-going-out' occasions – when everyone is at home together and looking for something a little more indulgent or treaty – is a far bigger occasion and one that is in major growth."
Costello said research conducted last year by Nielsen indicated share packs represent 88% of not-going-out sales in the UK and Burton's is "confident" confident the new product "will help to drive the growth of in-home biscuit consumption".
Each 120g pouch of Maryland Cookie Bites will be available at an RRP of GBP1.49 (US$1.83).