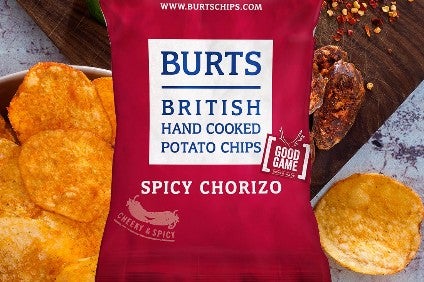 UK snacks brand Burts Potato Chips is to increase the size of its workforce at a recently-acquired site in Leicestershire in the English Midlands.
Some 64 jobs are to be created, including fryers, quality assurance technicians and machine operators. Previously run by popcorn maker Savoury & Sweet, which Burts bought in late 2017, the site is currently home to 120 employees.
David Nairn, managing director of the Devon, south-west England-headquartered Burts, said: "Since acquiring the Leicester-based Sweet & Savoury in 2017, the business has gone from strength to strength, delivering a combined turnover of GBP44m (US$57.5m) in the last year and increasing the number of jobs available by over 20% to 350 across the business.
"While we're proud of our success in 2018, the growth into 2019 has seen the business set its sights on delivering 25% year-on-year growth and has succeeded in achieving 26% in Q1. Our ambition is to continue to accelerate the business to become one of the largest independent premium snacking brands in the UK."
Burts was founded in 1997 and has forged a number of licensed partnerships with beer brands such as Diageo's Guinness, Marston's-owned beer brand Hobgoblin and spicy sauce business Levi Roots.