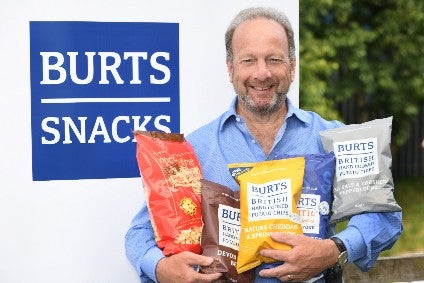 Burts Snacks, a UK-based independent crisp maker, has announced its chairman and managing director David Nairn has stepped down after leading the business for more than a decade.
Former Kraft Heinz and Coca-Cola executive Dave McNulty will succeed Nairn, who will become a non-executive director and Burts' company secretary. The business is based in Plymouth, south-west England.
Under Nairn's tutelage, Burts, which changed its name from Burts Chips last year, has gone from a GBP1m business to one with annual sales of more than GBP60m (US$78.2m), according to a statement.
Nairn said: "After 14 years, I am looking forward to seeing the business through a different lens. My career has been redefined by this industry after 32 years in banking. The role played in supporting our people and customers every day and my passion to continue to support the Burts family story will never change."
McNulty was most recently a managing director for the drinks division of SHS Group, and has also held the role of vice president of Coca-Cola and a director for Kraft Heinz in Europe.
just-food interview, July 2019: Burts Snacks MD David Nairn on how UK firm plans to double sales