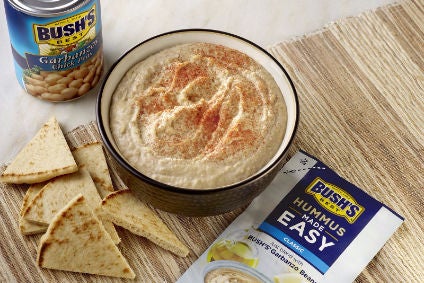 Bush Brothers & Co. has announced the launch of a homemade hummus product in the US.
Bush's Hummus Made Easy is designed to allow consumers to prepare hummus at home in "three easy steps" and "without the hassle of following a recipe or collecting all the needed ingredients", the company said.
"Research shows that an increasing number of consumers are turning to hummus as they seek out more healthy and delicious snack options," said Michael Morris, senior brand manager for Bush Brothers & Co. "They believe that making hummus at home is fresher and healthier, but finding the time and ingredients can be difficult. With Bush's Hummus Made Easy, making customised, homemade hummus is as easy as one-two-three."
The range features three variants: classic, southwest black bean and roasted red pepper.
The product features a can of either garbanzo or black beans and a Hummus Made Easy pouch, allowing the consumer to blend the product at home.
"More than 40% of consumers who don't currently make hummus at home say they would try if they had an easy, tasty way to do so," chef Jeffery Saad said. "Bush Hummus Made Easy is their answer."