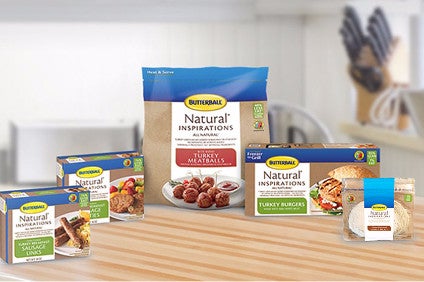 US turkey processor Butterball has promoted Jay Jandrain, the company's executive vice president of sales, to the position of COO.
Jandrain, who joined Butterball in 2002 as director of research and development, replaces the retiring Joe Nalley, who had spent a decade in the position, the company said.
As COO, Jandrain will oversee Butterball's manufacturing, supply chain, purchasing, engineering, research and development and will be responsible for operational issues.
Butterball's leadership team is rounded out by CEO Kerry Doughty and CFO Barry Gum.
Al Jansen, who had been Butterball's senior vice president for retail sales, moves up to succeed Jandrain's as executive vice president of sales.
Jansen joined Butterball in 2014 as vice president for integrated business strategy. He had previously spent almost six years at US poultry processor Perdue Farms.
Butterball is co-owned by Maxwell Farms, an affiliate of Goldsboro Milling Co. and Kansas-based agribusiness and transport conglomerate Seabord Corp.