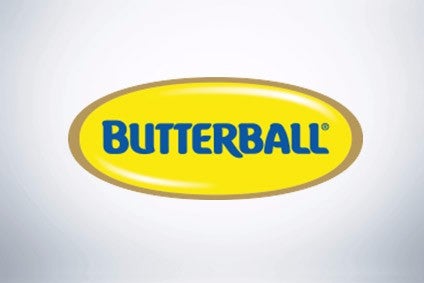 Butterball, the largest turkey producer in the US, plans to curtail production at a plant in Missouri with the potential loss of up to 450 jobs.
The site in question is located in the city of Carthage, where "certain production processes" will be scaled down over the course of "several months" starting around 1 March, Butterball, which supplies both the retail and foodservice channels with branded products, said in a statement. The company operates six plants spread across North Carolina, Arkansas and Missouri.
Butterball said the decision was taken due to "long-term adverse conditions in the commodities market" where the company "routinely" supplies excess protein produced at the Carthage facility. The factory will continue to manufacture ground turkey and turkey burgers.
Jay Jandrain, Butterball's president and CEO, said: "We are making every effort to provide support to our team members during a challenging time by providing a variety of paths to lessen the impact, including the opportunity to relocate to other Butterball facilities and severance packages.
"In spite of the ongoing market pressures that led to this decision, it was important to our leadership team that we find ways to carry our team members and their families through the holidays and provide continued employment through at least March of 2021."