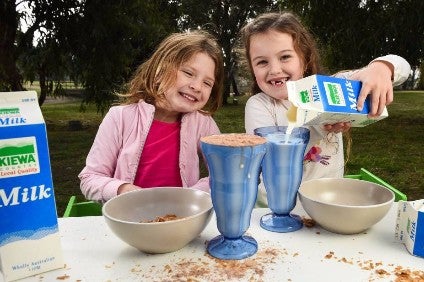 Kyvalley Dairy Group has been revealed as the mystery buyer of embattled Australian dairy group Murray Goulburn's Kiewa Country milk brand.
The Kyabram, Australia-based company purchased the brand and "certain associated milk processing and packaging assets" in July but its identity has been kept under wraps.
A statement from Murray Goulburn said: "The commercial terms of the transaction are confidential and the transaction remains subject to completion".
In a statement posted on Facebook, Kyvalley Dairy Group said the deal would "see an iconic brand remain not only in Australian hands but in Northern Victorian hands".
The company added: "The acquisition supports regional growth across Northern Victoria and will provide us the opportunity to increase supply of fresh milk both domestically and internationally and a boost for the Australian dairy industry."
Murray Goulburn has attracted interest from unnamed parties considering buying part or all of the business.
The cooperative revealed the approaches alongside the publication of its annual results, which included lower sales and an annual loss of more than AUD370.8m (US$293.4m) earlier this month.
In June, Murray Goulburn, trying to rebound from a problematic 2016, launched a "comprehensive" review it said would look at "all aspects" of its strategy and corporate structure. The move followed a previous review of the group's manufacturing network, which resulted in plans to close three facilities.
Kyvalley Dairy Group is one of Australia's largest family-owned dairy businesses supplying fresh milk products to the Asia Pacific region.