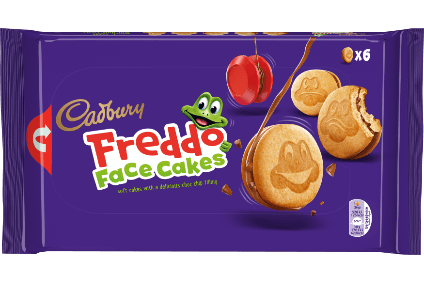 just-food publishes the most notable product development from the international food sector, presented in bitesize format to give you a flavour of the innovation from your peers and competitors announced this week.
Cadbury launches Freddo cakes and biscuits
Mondelez International-owned confectionery giant Cadbury is taking its Freddo range into cakes and biscuits.
Freddo Face Cakes are available now, while its Cadbury Freddo Biscuits will be available through wholesalers in January.
Freddo cakes are said to offer a soft cake sandwich with a creamy chocolate chip filling with different Freddo expressions to choose from. They are priced at GBP1.50 (US$2) for a 180 gram pack of six. The biscuits due out in the new year will come in both non price-marked 167g-packs and with a RRP of GBP1.29.
Mondelez said, quoting U&A research, that "the main consumption moment for these products is the family sharing occasion, and soft cakes and chocolate biscuits are the two top snack categories with 18% and 13% share, respectively".
Marketing manager for Cadbury Biscuits, Chiara Missio, added: "This makes for an ideal partnership that will truly excite parents with young families."
My/Mo Mochi Ice Cream tempts vegans with frozen desserts
US-based My/Mo Mochi Ice Cream has launched its non-dairy and vegan line of frozen desserts in a poppable format.
My/Mo Mochi Cashew Cream Frozen Desserts will hit retailers early in the New Year and will be available in strawberry, vanilla, chocolate and salted caramel flavours.
At 100 calories per scoop, the desserts are said to "introduce a new set of consumers to the colourful, bite-sized snacking experience and strengthen the brand's commitment to revolutionising the snack world".
Chief executive Craig Berger said: "The need for plant-based food has grown immensely in the last few years. Our fans are continually requesting that we add vegan options to our line of mochi ice cream snacks, as many consumers look to limit their dairy intake. We're thrilled to answer the call with these tasty offerings to satisfy their snack cravings."
Vita Coco launches lower fat coconut milk
Coconut water business Vita Coco has expanded its dairy alternative range witha new lower calorie, lower fat coconut milk.
It said it will be the first in a "wave" of planned innovation from the business in 2018.
Coconut Milk Light is made from the company's own Coconut Water and Coconut Cream, It is 1% fat and has 20 calories per 100ml. It is made with 100% raw coconut and contains protein, fibre and vitamins. It has been certified as 100% vegan by the Vegan Society.
Giles Brook, CEO EMEA Vita Coco, said: "Coconut based innovation is at the core of everything we do at Vita Coco. Our latest milk offering is just another step in our brand expansion and we will be innovating across all our categories in 2018."
Vita Coco Milk light will be sold in Sainsbury's, Whole Foods, and via Ocado. It has a RRP of GBP2.99 (US$4.00).
Beyond Meat launches vegan sausage
US plant-based meat substitute company Beyond Meat has launched its latest product – the Beyond Sausage.
It is described by the Los Angeles business as delivering on the "juicy, satisfying taste and texture of pork sausage but with added health benefits of plant-based meat".
Beyond meat said its new product has more protein than pork sausage, 43% less total fat, 38% less saturated fat, 27% fewer calories and 26% less sodium.
The Beyond Sausage contains no GMOs, gluten or soy.
Ethan Brown, CEO of Beyond Meat, said the product is "an advance in our team's relentless march toward a perfect build of meat from plants".
The sausage – available in Bratwurst, Hot Italian and Sweet Italian varieties – has been launched at Whole Foods Market in Boulder, Colorado, with further distribution details to be announced in January.
Valio Oddlygood plant-based snacks and drinks to arrive in 2018
Finland's Valio is introducing its Oddlygood range – a gurt, yogurt-style, spoonable snack made from oats, and a drinkable plant-based oat version.
Valio Oddlygood gurts and Valio Oddlygood oat drinks will be available in Finland in February and in Sweden during the spring.
The Valio Oddlygood flavour range includes mango, raspberry, strawberry, blueberry and vanilla.
The Cake Crew moves into branded with Beautifully Crafted cupcakes
The UK producer of private-label cupcakes is moving into the branded category with its new Beautifully Crafted cupcakes.
Available in flavours such as salted caramel, chocolate, red velvet and strawberry, the hand-finished cupcakes feature real fruit jam centres, caramel or premium chocolate all topped with buttercream.
Beautifully Crafted cupcakes come in single and twin packs, a mini 9-pack and a 12-cake platter, with prices ranging from GBP1.29 (US$1.72) and GBP1.99 to GBP9.99.
Founded seven years ago, The Cake Crew is based in Bala, Wales, and as well as cupcakes it makes a range of bakery products, tray bakes, loaf cakes and muffins. The company said it supplies major multiple retailers and discounters in the UK.