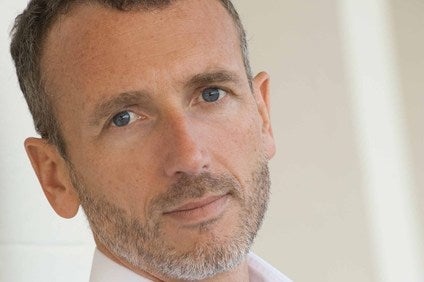 Danone CEO Emmanuel Faber has insisted the company – which has been rumoured to be eyeing US infant formula firm Mead Johnson Nutrition – does not need to make a "transformative" acquisition "to be successful".
The French food giant has periodically been linked to Mead Johnson, the latest round of speculation emerging last autumn. Analyst reaction to the prospect of Danone buying Mead Johnson has been mixed. Some industry watchers questioned whether Danone could afford Mead Johnson without a rights issue and suggested the group should instead invest in smaller transactions.
Speaking at the Consumer Analyst Group of Europe conference today (17 March), Faber said Danone would "look at opportunities" but would not pursue a large deal if it reduced the company's return on invested capital or necessitated a rights issue.
"I would be worried as a CEO to create a situation where a transformational acquisition would lead the ROIC of Danone, which we had patiently driven from 7% to 17% between 1997 – when [chairman] Franck [Riboud] and I arrived – and 2007, back to 7%, a drop of ten percentage points. I would not consider this. That is probably way too much in the current environment," he said. "I would not consider any use of Danone's equity to finance whatever transformational situation. Danone does not need to make any transformative deals to be a success. If there are opportunities, we will look at them but we will look at them with the two [criteria] that I just mentioned – if that means there is no deal, there is no deal. Life will continue."
Faber, promoted from deputy chief executive to CEO last autumn, outlined to investors and analysts at the CAGE conference Danone's plans to grow revenue and earnings. In 2014, Danone saw its underlying sales increase but its profitability was mixed, with a fall in trading operating income.
The Danone CEO insisted the business had "significant margin improvement potential in the next five years" and expressed confidence in the long-term outlook for the company. "I have explained about the demographics, the nutritional aspects, the health economics, the platforms that we have in our categories – they are growth categories. We are not talking about categories that will be hurt by obesity, that will be hurt by over-consumption here or there or in which we would be stuck in a low-growth geography. There's plenty of growth potential if we are just looking at this."
One area of some concern for some in the investment community is over the prospects for Danone's fresh dairy business, particularly in its largest market of Europe.
Danone's fresh dairy sales rose 1.5% in 2014 as price increases offset a 6.6% fall in volume. In the fourth quarter of the year, fresh dairy sales dipped 1% on the back of a 7.8% slide in volume. Quarterly sales in Europe were down by "around 4%", Danone said.
The trading operating margin from Danone's fresh dairy business fell 67 basis points in 2014.
Danone has taken steps to try to bolster profitability, closing factories in Europe and removing under-utilised capacity. The company said the initiatives will generate EUR200m (US$212.1m) in annualised savings from its European operations. The savings, Danone suggested, can be fed back into supporting and growing its dairy brands as well as expanding its business elsewhere.
Asked at CAGE what would lead Danone's European fresh dairy business to return to the top-line growth it had seen in the past, Faber said the division did not need to get back to those levels to see its profitability improve.
"We don't need Europe to be growing mid-single digits in dairy. We need Europe to be positive in dairy. To have dairy positive in Europe, it means we have to have Actimel and Activia positive," he said. "They have been in a number of important countries positive in the fourth quarter of last year. These are important signs that make us confident that gradually we are bottoming out. We will continue to have negative trends this year in Actimel and Activia [but] lower than in the previous five years and then gradually getting these brands back to zero and positive next year.
"That's the one twisting point that we need to accomplish in the next 18 months in Europe to get dairy back to profitable growth in Europe. At the same time, we are re-investing behind the other brands and also behind Actimel and Activia. So the profitable growth of dairy will not come from the fact that we resume the fantastic growth of Activia and Actimel but putting them back to growth and continuing to grow the rest of the business that already grows and be much more efficient on the cost side to generate the improvement on the margin than what has been in the case in the past. It will be a different combination than what we had ten years ago."