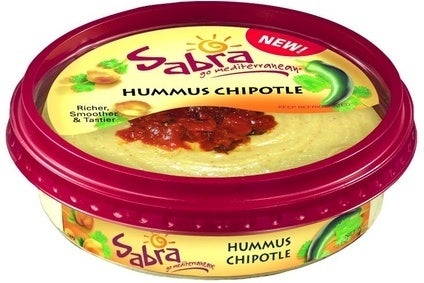 Israel-based Strauss Group – joint owner of US hummus manufacturer Sabra Dipping Co. alongside PepsiCo – believes the US market for fresh dips will almost double by 2020.
Strauss, which like PepsiCo owns 50% of Sabra, said total sales of fresh dips – hummus, salsa, guacamole and yoghurt dips – stood at US$1.79bn in 2014. In 2009, the category was worth $1.14bn, representing a compound annual growth rate (CAGR) of 9.5%.
Speaking at the Consumer Analyst Group of Europe conference on Wednesday (18 March), Talia Sessler, Strauss's director of investor relations, said the company has internally forecast the category will hit $3bn in five years' time.
Hummus is the largest segment, with $724m sold in the US last year, up from $322m in 2009. Sabra is the largest business in the segment, with a market share of 63%, Sessler said, citing IRI data. Its nearest branded rival is Tribe Mediterranean Foods, part of Israel food group Osem Investments, in which Nestle owns a majority stake.
Elsewhere in the US fresh dips category, $292m of fresh salsa was sold in 2014, with $198m of guacamole and $40m of yoghurt dips.
"I'm often asked about the future growth potential of Sabra. If you look at household penetration of hummus is 29% and our household penetration is 21%, so there is still huge potential to increase household penetration," Sessler said.
She said consumption per capita of hummus is "very low" in the US and could be increased through investment in new products, pointing to on-the-go, single-serve lines it has launched in the US.
"Another growth engine is the additional categories in which we currently play – guacamole, fresh salsa and Greek yoghurt-based dips," she added.
Strauss and PepsiCo have bet on the continued growth of fresh dips, doubling capacity at its in hummus plant in Virginia. Both companies spent $35m on the expansion.