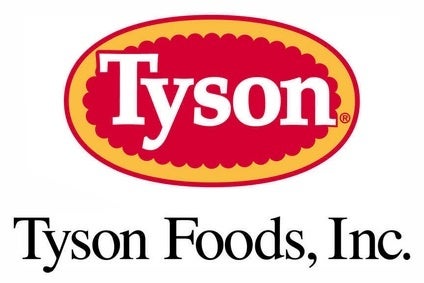 Tyson Foods is to expand its snacks portfolio in the US – including a launch into beef jerky – in a bid to further grow its sales of packaged brands.
The US-based meat processor beefed up its packaged meats business last year with the acquisition of Jimmy Dean and Ball Park owner Hillshire Brands.
Andy Callahan, the former Hillshire executive who joined Tyson to lead the company's retail packaged brands business, said today (18 March) the group had a "very robust pipeline" of new products hitting the US market, including snacking lines set to be rolled out in the second half of its current financial year, which runs until late September.
The new products include a Ball Park beef jerky line under a former Hillshire brand known more for its hot dogs.
The US meat snacks sector is seen as one of the more buoyant parts of the industry. Hershey said the "rapidly-growing" sector was worth $2.5bn when it acquired jerky supplier Krave earlier this year.
Speaking at the Consumer Analyst Group of Europe investment conference in London this morning, Callahan said: "We aim to disrupt this category with a product that's flame-grilled, that's differentiated from the category and therefore tastes better and provides a tender, differentiating opportunity for consumers. Our customers are extremely excited about this opportunity."
Tyson is also set to roll out a new line under its Hillshire Farm brand called Hillshire Snacking. The range contains two types of product: one containing meat, cheese and bread in a single package; and a line of flavoured chicken bites.
Callahan said: "We've been testing with some of our leading retailers over the last six or seven months an opportunity to move into a snacking category with an evolution of our Hillshire Farm brand. Within the test market of this portable snacking portfolio, absent advertising, as we've gone into the shelf set, at our premium price point, we've driven higher velocity and higher incrementality to a category that customers and consumers [said] lacked innovation."
Tyson is also adding more flavours to its Tyson Any'tizers chicken snacks line.