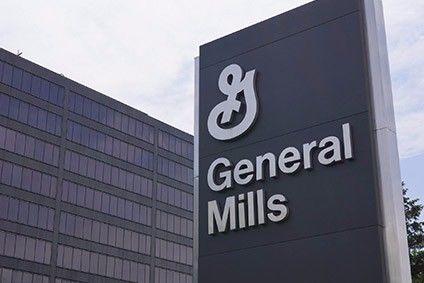 General Mills chairman and CEO Jeff Harmening today (20 February) indicated the US food giant will continue to revamp its portfolio through M&A and the sale of more of its own assets.
Speaking at the Consumer Analyst Group of New York investment conference in Florida, Harmening said "reshaping" the Cheerios and Yoplait owner's business was one of the company's three "priorities" to "restoring top-line growth".
"Reshaping our portfolio is something that we intend to continue to do and will probably accelerate," Harmening told his audience in Boca Raton, Florida. "We're going to continue to look for bolt-on acquisitions both in North America and Europe."
The most recent deal in which General Mills bought a business outright was in January 2016: much of its recent M&A activity has comprised minority investments in fledgling food businesses, transactions made through the group's in-house venture-capital arm 301 Inc.
The January 2016 deal saw General Mills buy US meat snacks supplier Epic Provisions. A month earlier, General Mills snapped up Brazil-based yogurt market Carolina Administracao e Participacoes Societarias, a deal that came three years after it acquired Yoki, another food manufacturer in the South American country.
General Mills' last sizeable outright acquisition was the US$820m purchase of US business Annie's in 2014.
In his presentation at the CAGNY conference, Harmening made no reference to 301 Inc's recent deals but pointed to the deals the company had previously done outright, a list to which he added the purchase of US firm Larabar, an acquisition made almost a decade ago, and Chinese business Wanchai Ferry, which the group attained when it bought Pillsbury back in 2001.
"We feel good about what we've done with Annie's, what we've done with Epic, what we've done with Larabar. We'll also look to add scale in emerging markets. We added Carolina yogurt to Brazil and we like what that's done. We've added Yoki in Brazil and we like what that's done. We acquired Wanchai Ferry many years ago and we like what we've seen with that. We'll continue to look for that," Harmening said. "We'll also look for new growth platforms and new categories where we can leverage what we do well and using our capabilities in sales and supply chain and R&D."
General Mills, meanwhile, has offloaded assets in Argentina and South Africa over the last two years but its most recent significant disposal came in September 2015 when it sold the Green Giant business to fellow US group B&G Foods.
Harmening, a General Mills veteran who became CEO last June and took on the additional role of chairman last month, suggested more disposals were in the offing.
"We divested Green Giant in fiscal '16 as we decided we were not going to invest in that business anymore. As we look ahead, we're looking at businesses with roughly about 5% of our sales that probably don't fit in our portfolio as well now as they did a few years ago. We will look to divest some of those businesses that are slower growth and lower margin."
He added: "I'm not going to give a timetable for that today but clearly we think we could benefit by focusing and having a few businesses that probably belong better in somebody else's hands because they're willing to invest in them more than we are."
In General Mills' 2016/17 financial year, the company generated net sales of US$15.62bn.