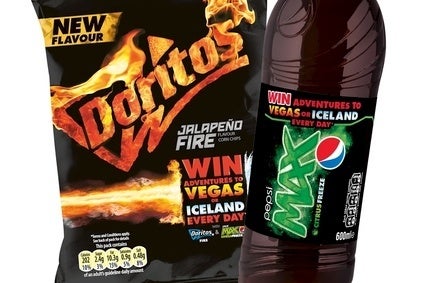 PepsiCo has insisted its moves to drive sales by marketing its snacks and beverages together are paying off.
The "Better Together" plan has been drawn up address to benefit from what PepsiCo saw as an "advantage in the marketplace" of pushing its products together.
The company has worked to demonstrate the cohesion of its snacks and business units since there were calls from investor Nelson Peltz to divide the business two years ago, although it appears that pressure has eased, if not disappeared.
"The better together agenda really starts and stops with the consumer," Tom Greco, CEO of PepsiCo's Frito-Lay North America business, said yesterday at the Consumer Analyst Group of New York investment conference. "In fact the incidents of co-purchase between salty snacks and liquid refreshment beverages is higher than peanut butter and jelly."
The firm has recently increased efforts to align the businesses and moves have included forming a team made up of executives that have worked on both sides of the company, and working more closely with retailers to understand their thoughts on consumer purchase patterns.
Specific moves have included bringing Doritos and Mountain Dew together, Quaker, Naked and Tropicana together as a breakfast offering and more recently Pepsi and Tostitos.
Greco said "the teams know their consumer intimately and they take advantage of scale to leverage properties like the NFL to drive performance".
He added: "The goal is to really understand the drivers of choice inside each demand space as it applies to food and beverage. For example, both Pepsi and Tostitos focus on the "fun times together" demand space. This occasion is a social occasion. It involves friends and fun is really the priority for this occasion. So we go very deep to understand it and capture the growth potential inside fun times together."
Al Carey, CEO of PepsiCo's beverage business across the Americas insisted, though the reward was still small, the concept of bringing the businesses together is working.
"One of the reasons that our better together approach is working better is because now the beverage business has improved in performance. No ways near where I [would] like it to be yet, but I will tell you that the performance has improved."
The company is now looking at ways to grow its "better together" activities. Vivek Sankaran, chief customer officer for the Frito-Lay America division, said the company needed a "very, very deep understanding of demand".
He said: "By demand I mean demand at the point of consumption and demand at the point of sale. And this understanding of demand is unlocking several better together ideas for us. Because of this demand in our stores we are getting to what we call hypo local assortments, extremely tailored assortments even across street corners in the store."
Sankarangave an example of a Starbucks that could cater to a breakfast offering with Quaker cups, Quaker hot cereal, Quaker cold cereal and Quaker bars around it.
PepsiCo is also working with retailers to "rethink and redesign the centre store" to help promote sales.
"We all know that Mountain Dew and Doritos go better together, but what we did understand is for this particular consumer putting single serve along with take home makes a huge difference. So we're inserting those kinds of end caps in parts of the centre store".
PepsiCo was asked at CAGNY about the length of time it had taken to devise the strategy. Carey said it was down to the businesses being "incredibly granular and operational" until now.
"It's hard to break away from that focus and lift yourself up above it and make things happen. I would say that the four of us up here have all worked in both sides of the business. So we have an appreciation for the challenges on each side of the business and know the right ones to go after now. I think in the past we didn't do enough trading off of beverage people over to snacks and vice versa. I think we're heading in the right direction and I think some it some of it starts from the top. Tom [Greco] and I are linked at the hip. We're committed to making it happen and it's on our personal objectives".
Analysts appeared to respond favourably to PepsiCo's initiatives. Ali Dibadj, an analyst at Sanford Bernstein, said it seemed the company was taking the programme "very seriously".
Bonnie Herzog, an analyst at Wells Fargo Securities, added: "Despite the extensive noise over the last couple of years from some investors urging PEP to split its snacks/beverage business, we believe its commitment to keeping its current structure in place remains the right strategy for now. By leveraging its broad product portfolio and deep understanding of consumer demand, PEP has been able to drive incremental growth across its entire portfolio. We believe cross-pollination of executives across both business lines has further helped support greater interaction across the businesses and help promote this strategy."
Peltz first called for a split at PepsiCo in 2013. He suggested the company should look to merge its snacks business with Cadbury and Oreo owner Mondelez International and then spin off its drinks arm. A so-called "Plan B" from Peltz was for PepsiCo to simply spin off the beverage business. Last January, Peltz gave up on his bid for a merger with Mondelez but still publicly called on PepsiCo to split.
Peltz still wanted PepsiCo to divide in two at least as recently as July. The billionaire told a conference in New York PepsiCo was "not being managed well" and warned there could be a proxy battle at the business.
Last month, PepsiCo handed a board seat to former Heinz CEO Bill Johnson, who is also an advisor to Peltz. The move appears to have brought an end to the two years of tension between PepsiCo and Peltz.