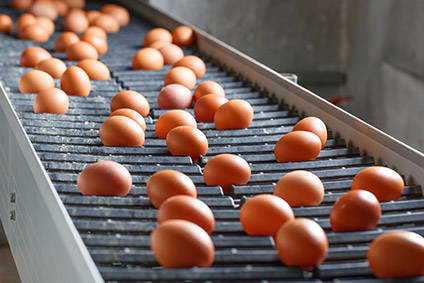 US egg supplier Cal-Maine Foods reported a third successive quarter of worsening profitability as the company battled falling prices amid excess supply in the sector.
Cal-Maine Foods booked a net income of US$4.1m for its third quarter, which ran to 25 February. A year earlier, Cal-Maine posted net income of $64.2m.
The year-on-year slump in third-quarter profits followed first and second quarters in which the company filed losses. The results added up to a nine-month loss of $49.8m, compared to a profit of $316.4m a year earlier.
Cal-Maine made a third-quarter operating loss of $4.6m, versus $85.8m in the corresponding period a year ago. Over the first nine months of Cal-Maine's financial year, it made an operating loss of $92.4m, against operating income of $472m a year earlier.
Third-quarter net sales dropped 31.8% to $306.5m. Cal-Maine's net sales more than halved in the first nine months of its financial year, falling from $1.61bn to $799.9m.
"The egg markets have remained under pressure, and we do not expect to see any meaningful improvement until there is a better balance of supply and demand," Cal-Maine chairman, president and CEO Dolph Baker said.
Baker said a repopulation of farms throughout the industry after the 2015 avian influenza outbreak and reduced demand from commercial customers have contributed to lead to an "over-supply of eggs" despite "strong" consumer demand for shell eggs in the retail channel. Food manufacturers that had reformulated products to use fewer eggs when prices spiked last year have been "slow to resume previous egg usage", Baker explained.
He added: "Recent USDA reports show the chick hatch has been trending down, suggesting there may be a moderation in the size of the laying hen flock as the year progresses."