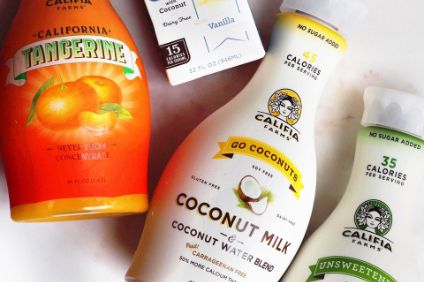 Califia Farms, the US plant-based dairy business, has announced expansion plans after it closed another round of funding that brought in more than US$50m.
The round of investment has been led by Ambrosia Investments and existing investors, Sun Pacific and Stripes Group.
Greg Steltenpohl, CEO and co-founder of Califia Farms, said: "This round of funding will allow us to further pursue our vision to be the leading plant-powered food and beverage company of the future by investing in our four brand pillars of sustainability, health and wellness, plant-based innovation and engaging consumer experiences."
More specifically, Califia said it will be expanding its manufacturing capacity in Bakersfield, California and plans to further develop its ability to commercialise recent innovation in areas such as plant-based milks and non-dairy creamers.
It also intends to spend some of the investment cash on promoting the launch of its new probiotic dairy-free yogurt drinks.
Serge Schoen, partner and chairman of Ambrosia Investments, said: "Califia Farms has achieved remarkable growth in its six years of operation through a disruptive suite of plant-based products.
"We're excited about our investment in Califia and are committed to the long-term growth of the company as the brand continues to innovate and introduce products that truly live up to their motto of 'Something Different, Something Better'."
Ambrosia Investments is an investment firm focused on providing growth capital for disruptive brands and businesses in the food, beverage and ingredients industries.
Califia, meanwhile, named former Barclays and Goldman Sachs executive Sandeep Patel its new CFO.