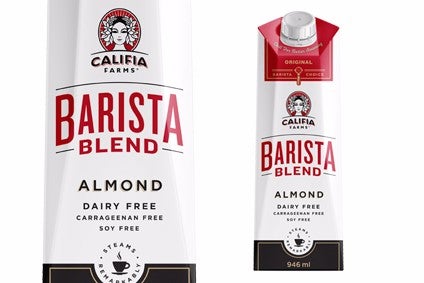 US plant-based dairy business Califia Farms is adding the UK to its roster of international markets, with products set to hit national retailers in May.
Califia Farms, which earlier this week announced the launch of its products into Canada, is making its UK debut tomorrow (1 April) with two SKUs at local Whole Foods Market outlets.
In May, more products will be launched at national retailers including Sainsbury's.
"Califia Farms Cold Brew Coffee and Barista Blend Almondmilk will be sold in Whole Foods UK from 1 April before further Almondmilk and Cold Brew Coffee products are introduced to the UK market via nationwide retailers such as Sainsbury's, who will begin stocking the brand from 21 May," the company said. "It's exciting to see creative retailers such as Sainsbury's taking an active lead in curating the best quality products from around the world."
The privately-owned business, set up in 2010, believes it can tap into growing demand in the UK for alternatives to dairy products and, more broadly, from "millennial-minded" consumers in the country.
"The UK are a nation of coffee and nut milk lovers and we've also noticed an ever-growing demand from consumers for healthy choices in the food and drink aisles. Califia Farms plant-powered beverages appeal to today's 'millennial-minded' consumers who are looking for simpler, cleaner foods with a lower environmental impact, while at the same time expecting these products to taste great," the company said.
Califia Farms said its products are available in "multiple markets through distributors". It indicated the UK could help the business expand further but refused to be drawn on which other international markets it planned to open by the end of the year.
"The UK launch is a key market for the brand and is paving the way for further expansion in the future. At present, communications are focused on the UK launch and any additional launches will be announced in due course," the company said.
Califia Farms declined to provide data on its annual sales. However, it said it "ships a million cases a month", adding its "sales grew 77% in 2016 across all channels".