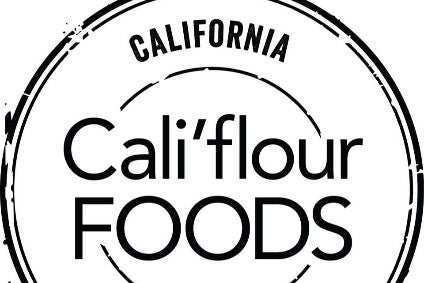 Cali'flour Foods, a US-based start-up making low-carb foods based on cauliflour, has received a cash injection from a group of investors and also a new chief executive to lead the next stage of its growth.
Growth fund Sunrise Strategic Partners teamed up with private-equity fund Trilantic North America to make the undisclosed investment in California-based Cali'flour Foods, which manufactures plant-based pizza crusts, flatbreads, crackers and pasta for people seeking low-carb diets and food products free of allergens such as gluten and grains.
CircleUp Growth Partners, a San Francisco-headquartered equity fund focused on emerging consumer brands, also took part, according to a statement. Mike Anderson, who has a 30-year history developing businesses in the consumer-packaged goods space, will become CEO of Cali'flour Foods, founded in 2016 by Amey Lacey.
Lacey commented: "We've discussed partnering with an institutional investor for a while, and I know now is the right time and Sunrise is the right partner. Steve Hughes [Sunrise's co-founder and CEO] has been a phenomenal mentor, and I feel extremely blessed and grateful for the opportunity to work with the entire Sunrise team. This strategic partnership and support will allow us to expand and innovate quickly as we continue sharing healthy food with the world."
Hughes was also the founder of Boulder Brands, a US-based health and wellness food producer that is part of Pinnacle Foods, which was acquired last year by frozen food specialist Conagra Brands. He also invested in the US ice cream brand Coolhaus last year.
He added: "Amy made no compromises as she created the recipes in her product line. She could have grown faster sooner, but her steadfast commitment to using fresh cauliflower, only a few simple ingredients and zero fillers sets Cali'flour Foods apart from competitors. We are so impressed by what Amy and her team have built and we are incredibly excited about the future of Cali'flour Foods."
The investment from Sunrise will allow Cali'flour Foods, which Lacey founded after being diagnosed with an auto-immune disorder, to expand its distribution, fund marketing and sales investments, and develop new products.
Incoming CEO Anderson described his objectives: "Our primary goal is to build upon the solid consumer base from our online business, expand into supermarkets and natural product stores and innovate, while keeping our commitment to using fresh cauliflower to create great tasting products with the best nutrition profile in the category," he said.