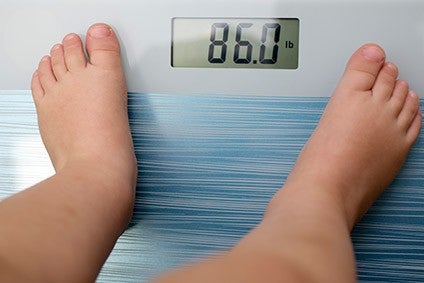 UK children are getting fatter, a government report released today (24 July) has revealed.
Severe obesity in ten- to eleven-year-olds in the UK has reached a record high, according to government statistics.
Responding to the figures released by Public Health England (PHE), pressure group the Obesity Health Alliance has called for government action to try to halve childhood obesity, partly through a crackdown on so-called junk food advertising, to be implemented as quickly as possible.
The statistics, based on the National Child Measurement Programme (NCMP), show the proportion of children in school year 6 (aged ten to eleven years) with severe obesity has reached the highest point since records began. It has increased from 3.17% in 2006/7 to 4.07% today.
The programme captures the height and weight of over one million children in the reception school year (aged four to five years) and in year 6 each year.
Today's findings also show health inequalities continue to widen. The prevalence of excess weight, obesity, overweight and severe obesity are higher in the most deprived areas compared to the least deprived.
The Department of Health and Social Care recently announced the second chapter of its Childhood Obesity Plan to help halve childhood obesity by 2030. Key actions include mandatory calorie labelling on menus and restrictions on price promotions on foods high in fat, salt or sugar. These measures will go out for consultation later this year.
Dr Alison Tedstone, chief nutritionist at PHE, said: "The rise in severe obesity and widening health inequalities highlight why bold measures are needed to tackle this threat to our children's health.
"These trends are extremely worrying and have been decades in the making – reversing them will not happen overnight."
As part of its work to tackle childhood obesity, PHE is working with the food industry to cut 20% of sugar from everyday products by 2020, and 20% of calories by 2024.
But Caroline Cerny, alliance lead for the Obesity Health Alliance, is calling for action to be taken as quickly as possible.
She said: "It's very concerning that the number of children with a weight that is classified as severely obese is now at an all-time high. Children with obesity are five times more likely to have obesity as adults, putting them at risk of diseases including Type 2 diabetes, cancer, heart and liver disease, as well as associated mental health conditions.
"The government has recently set out some bold plans with an ambition of halving childhood obesity by 2030, including a 9pm watershed on junk food adverts. We need all these measures to be fully and swiftly implemented to help ensure all children have the healthiest possible start in life."
Read just-food's analysis: UK government likely to give little ground on childhood obesity measures