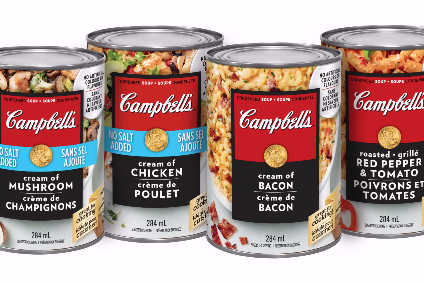 Campbell Soup Co. today (19 May) booked a fall in sales and earnings for the third quarter of its financial year on weak demand for its condensed soups and broths – and warned that full-year sales could decline.
In the three months to 30 April, Campbell generated net earnings attributable to the company of US$176m, down from $185m a year earlier. However, EBIT increased to $298m versus $268m in the comparable period a year ago.
Sales fell to $1.85bn from $1.87bn in the year-ago period.
The company said sales from its Americas Simple Meals and Beverages division decreased 2% to $982m "driven by declines in soup and V8 beverages, partly offset by gains in Prego pasta sauces".
Campbell said sales from its Global Biscuits and Snacks arm increased 2% to $623m driven by gains in Pepperidge Farm, as well as gains in Arnott's biscuits in both Australia and Indonesia. "Pepperidge Farm sales increased due to gains in Goldfish crackers and Pepperidge Farm cookies, partly offset by declines in fresh bakery and frozen products," the company said.
However, the company said sales from its Fresh unit fell 6% to $248m amid lower sales of Bolthouse Farms refrigerated beverages.
Campbell said it now expects sales to change by -1% to 0% (previously 0% to 1%); adjusted EBIT to increase by 2% to 4% (previously 1% to 4%), and adjusted EPS to increase by 3% to 5% (previously 2% to 5%), or $3.04 to $3.09 per share. The guidance assumes the impact from currency translation will be nominal.
President and CEO Denise Morrison said: "While organic sales declined 1% in the quarter, the team performed well in a difficult environment, gaining market share in many of our categories and continuing to execute our cost savings programme."
"The industry, including Campbell, experienced significant consumption declines early in the calendar year," Morrison said. "These industry trends coincided with weak consumer spending, which was at its lowest growth rate since 2009. While we rebounded with sales growth in March and April, we were unable to offset the earlier declines."