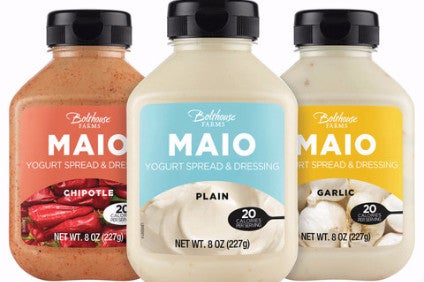 Campbell Soup Co. has refused to be drawn on a report it is in talks to sell its fresh-foods unit to a former executive – but the US group said it expects a number of suitors for the assets.
The Wall Street Journal yesterday (4 October) reported Campbell was in discussions with a group of investors led by Jeff Dunn, who ran Bolthouse Farms – the brand at the centre of the soup maker's fresh-foods division.
The recently-announced results of a review by Campbell of its options – which came in the wake of the departure of former CEO Denise Morrison – saw the Pepperidge Farm owner reveal it will concentrate on its core products and its domestic market while ditching its fresh-food and international arms.
Asked for a reaction to the WSJ report, a spokesperson for Campbell told just-food: "We don't comment on rumour or speculation. Campbell Fresh consists of great brands, and we expect a number of potential buyers to be interested."
Dunn joined Campbell with Bolthouse Farms after the US food giant acquired the business in 2012 for US$1.55bn. Campbell subsequently added to its fresh-foods assets through the purchase of US salsa maker Garden Fresh Gourmet in 2015 for $231m.
However, Campbell's fresh division has faced challenges and, in the third quarter of the group's last financial year, the company booked an impairment charge of $619m on the unit.
The company had wanted to build Campbell Fresh to build the group's "scale" and accelerate its growth "in the rapidly expanding packaged fresh segments and categories across the retail perimeter".
The unit's performance has not matched Campbell's ambitions. The unit faced pressure on carrot costs, the need to invest to improve product quality and constraints on capacity. There was also a recall of a Bolthouse Farms drinks line.
Campbell, meanwhile, yesterday issued a letter to shareholders ahead of its AGM on 29 November. The company is facing pressure from activist investor Third Point, which has been critical of the food manufacturer's performance and has reportedly been pushing for a sale of the business.
Third Point, which owns more than 5% of Campbell, has attracted support from fellow investor George Strawbridge – a Campbell family member and board director. Strawbridge's mother was the daughter of John T. Dorrance, a chemist who invented condensed soup and who went on to be president of the company. Strawbridge has been a member of the Campbell board of directors since 1988.
Third Point and founder Daniel Loeb believe Campbell's review does not go far enough. The investment fund earlier this week issued a proxy statement with the US Securities and Exchange Commission to replace Campbell's board with a slate of new directors, including former Hostess Brands chief executive Bill Toler and Kurt Schmidt, the ex-CEO of US pet-food business Blue Buffalo.
Yesterday, Reuters reported Loeb had demanded access to Campbell Soup Co. records, including board meeting minutes and financial documents.
Campbell's letter to shareholders summarises the results of its review and the "significant actions that are underway to focus Campbell's portfolio, improve performance and maximise shareholder value".
It also highlights the "strength and experience" of its directors and management team and discusses why it believes Third Point's actions are not in shareholders' best interests.
"Its proposed nominees lack the required skills and expertise to oversee a public company like Campbell and its iconic brands," it read.