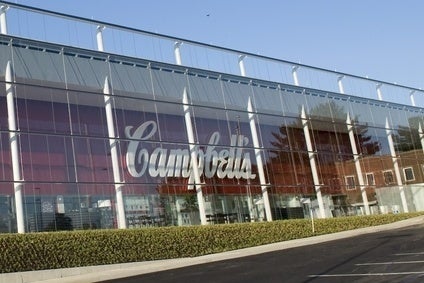 Campbell Soup Co. conceded today (25 February) margins are likely to be down this year after booking a double-digit decline in second-quarter operating profit.
Second-quarter EBIT fell 14% to US$312m, down from $361m in the comparable period of last year. While the decline was less marked for the half – with six-month EBIT up 2% and adjusted EBIT down 4% – Campbell said it expected margin softness to be a factor for the remainder of the year.
CEO Denise Morrison said: "Adjusted EBIT declined by double digits, reflecting disappointing gross margin performance in the quarter, and was below our expectations… Although we have robust plans in the second half to mitigate our gross margin issues, we don't expect to offset the impact of the margin pressures that we experienced in the first half."
The company attributed the margin pressure to cost inflation, higher supply chain costs and higher promotional spending. During the period marketing and selling expenses decreased 10% primarily driven by lower advertising and consumer promotion expenses, the group noted.
Second-quarter net profit fell 36% to $207m. Earnings per share totaled $0.66, down 11%.
Campbell lowered its forecasts for annual sales and profits this month. The soup maker confirmed it anticipates a decline of 5-7% in adjusted EBIT.
Sales in the period fell 2% to $2.23bn.