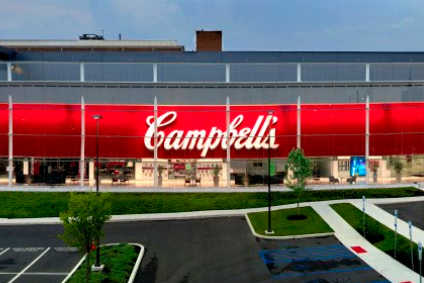 Daniel Loeb, the billionaire investor, has once again called for ailing US food giant Campbell Soup Co. to be sold.
Loeb, who runs the Third Point hedge fund, has now joined forces with fellow investor George Strawbridge – a Campbell family member and board director – to try and force the move, revealed in a filing to the US Securities and Exchange Commission (SEC).
But, as news agency Reuters reports, the move could prove difficult as together Third Point and Strawbridge own 8.42% of Campbell's shares while other Campbell family members have a stake of about 41% in the company.
In a response to Strawbridge's SEC filing, Campbell said it "remains dedicated to delivering a go-forward strategy that will drive value for all shareholders" and that it will provide further details when it announces its full-year results on 30 August.
Strawbridge's mother was the daughter of Dr John Thompson Dorrance who owned Campbell. He has been a member of the Campbell board of directors since 1988.
But in his filing to the SEC, Strawbridge described Campbell's strategic plan as "deeply flawed" and said the execution of that plan has resulted in a "substantial reduction in shareholder value and a significantly weakened company".
He said that for many months he has communicated his belief and concerns to other members of the board, and has repeatedly requested that the board take action to rectify the situation.
But Strawbridge said dialogue had now ceased and he now believes "the only reasonable approach is to reconstitute the board".
"Only a reconstituted board, free of the need to defend past actions and other legacy issues, will be able to objectively explore all strategic alternatives," his filing said.
He said he has agreed to act in concert with Third Point to engage in discussions and activities in this regard.
Campbell is undertaking a strategic review. Interim CEO Keith McLoughlin told investors in May "everything is on the table" and "there are no sacred cows".
McLoughlin took temporary charge of Campbell in May after chief executive officer Denise Morrison stepped down following the company announcing a third-quarter loss of US$475m – compared to a $298m profit for the equivalent period last year.
Third Point said it believed a strategic review underway at Campbell would create "significant value" for shareholders if conducted properly and also said it may seek board seats if it feels that Campbell's directors have failed to do their job appropriately. The company's annual general meeting is likely to be held in November.
Analysts have suggested the review could result in parts of the business being sold off or Campbell being sold in its entirety. Fellow US food giant Kraft Heinz has been linked with making a bid although it has not confirmed whether it is interested.
Campbell' statement today said: "As previously announced on May 18, the company is currently undertaking a board-led comprehensive strategy and portfolio review to examine all potential paths forward to maximise shareholder value. Our entire board of directors remains dedicated to delivering a go-forward strategy that will drive value for all shareholders.
"As we stated when we announced the review, we look forward to sharing the details of our plans when the company reports its fourth-quarter and full-year results on August 30 and engaging with our shareholders on our strategic plan."