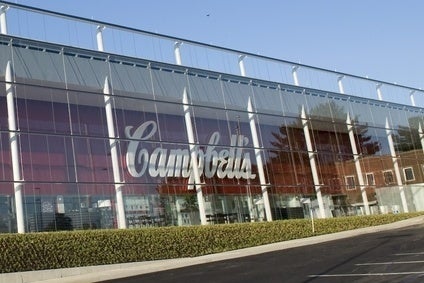 Campbell guides to higher end earnings range, lower end sales
Q3 sales fall 4%
EBIT drops 2%
Campbell Soup Co. said it expects full-year earnings to fall in the upper end of its guidance range despite a slump in third-quarter sales and EBIT.
The company said today (22 May) that third-quarter sales were down 4%, or slid 1% on an organic basis, dropping to US$1.9bn. Campbell attributed the decrease to the negative impact of currency and retailer inventory movements in the US. The company said it expects full-year sales to come in at the lower end of its guidance range. Campbell had previously forecast its sales would land in a range of a 1% decline to a 1% increase.
Campbell also said third-quarter operating profit fell 2% to $287m. But lower interest and tax rates meant the drop in net earnings was less marked, slipping to $182m from $184m. CEO Denise Morrison said the earnings performance was evidence that Campbell's "focus on gross margin performance began to pay dividends" in the period to 3 May.
The US soup maker narrowed its earnings guidance to the upper end of its forecast range for both operating profit and EPS. The company expects EBIT to come in at the "favourable end" of its forecast of a 5-7% fall. Adjusted EPS is expected to come in at the top end of its forecast, which is for a drop of 3-5%.
Shares in the group edged up 1.43% in pre-market trading in New York this morning.