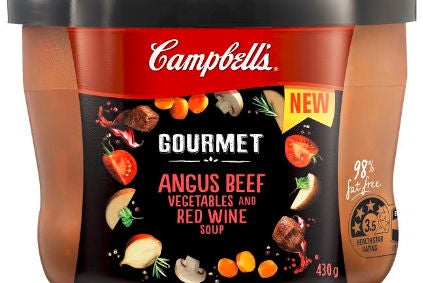 Campbell Soup Co. has launched a "gourmet" soup range in Australia.
Campbell's Gourmet is "a range of contemporary soups, with bold modern flavours and authentic ingredients," a spokesperson told just-food.
The range is its first shelf-displayed, "ready-to-serve bowl" product, the company said. Campbell said its packaging allowed the consumer to see the soup and "trust we have real ingredients inside".
Campbell's Gourmet features seven variants: Chicken, Mushroom and Wild Rice; Angus Beef and Red Wine; Pumpkin with Spinach and Ricotta Ravioli; Mexican Chicken, Corn and Rice; Moroccan 10 Veg; Pumpkin with Spinach and Lentils; and Tomato with Spinach and Ricotta Ravioli.
It is available in supermarkets nationwide at an RSP of A$3.99 (US$3.02).
The Plum Baby and Pepperidge Farm owner earlier this year reported improved profitability in its second quarter results but underlying sales growth came in below expectations on the back of falling sales of ready-to-serve soup and beverages in its US market.