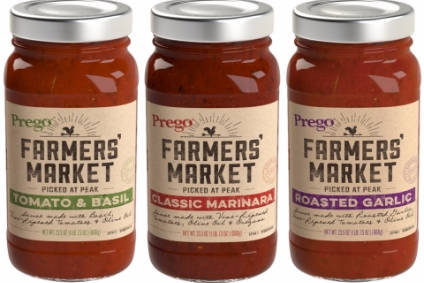 Campbell Soup Co. has launched a line of sauces, Prego Farmers' Market, in the US.
The company said the range is made with tomatoes "picked at their peak", herbs and vegetables. It consists of three varieties – classic marinara, roasted garlic and tomato and basil.
"Prego Farmers' Market was created by a passionate team of chefs and foodies who were looking for the authentic feel of homemade sauce. They visited local farmers' markets, bought different types of tomatoes and had consumers test dozens of recipes before landing on a sauce with the perfect crushed tomato texture, flavour and aroma," Campbell said.
The range is being rolled out throughout the US. The sauces come in a 23.5-ounce jar with an RRP of US$3.99.
When Campbell announced its results for its third quarter, which ran until 1 May, president and CEO Denise Morrison dubbed Prego one of "several bright spots" within the company's soup and simple meals arm. Sales from Campbell's Americas simple meals and beverages division fell 2% on an organic basis during the quarter. Morrison said Prego had had "a very good quarter", pointing to "strong merchandising" and growth in white sauces.
Last month, Campbell outlined its "sustainable growth strategy", which will focus on developing healthy and organic foods, growing its digital and e-commerce presence and boosting the company's expansion in new markets.