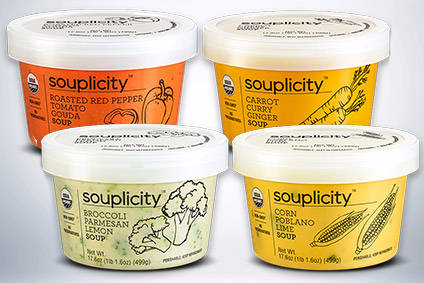 Campbell Soup Co. is launching a line of organic "vegetable-forward" soups in the US under the Souplicity brand.
The range is a line of HPP (high pressure processing) fresh refrigerated soups made from "simple" ingredients that are organic, non-GMO and free from preservatives, Campbell said.
"While more than half of consumers looking for foods that are both organic and made with simple, recognisable ingredients, there has been minimal innovation in the fresh refrigerated soup category to meet these demands," Todd Putman, general manager at Campbell's C-Fresh unit, said. "With Souplicity, we're bringing bold flavours and variety to consumers who crave a fresh culinary twist on a classic."
The range includes four flavours: roasted red pepper tomato gouda, carrot curry ginger, corn poblano lime and broccoli parmesan lemon.
Souplicity is being distributed via organic food supermarket Earth Fare beginning this month. It comes in 17.6-ounce containers for an RRP of US$5.99.