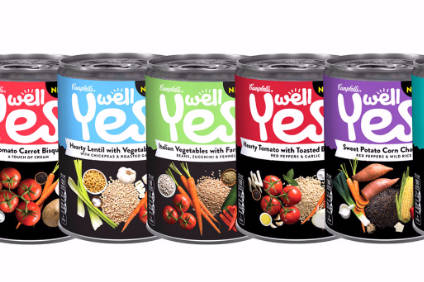 Campbell Soup Co. has launched a soup line in the US – Well Yes – featuring "simple and nutritious ingredients that people know and understand".
The company said the soups include "wholesome grains, meats and vegetables" featuring ingredients such as kale, quinoa, barley, beans, sweet potatoes and whole grains.
"The soups are made with carefully-selected and sourced ingredients like chicken meat with no antibiotics," Campbell said. The line contains "no artificial colours, flavours, ingredients or modified starches".
Sophie Arsenlis, director of marketing for soup strategy at Campbell, said: "We thought differently about the creation of this soup, from flavour combinations, to our package design to the types of ingredients we sourced. With the Well Yes brand, we are saying 'yes' to real food and well-being by only using ingredients that consumers know and trust."
Well Yes soups are packaged in 16.6oz cans available nationwide for a suggested retail price of US$2.69.
In November, Campbell booked first-quarter net earnings of $292m, compared to $194m in the first quarter of the company's 2015/2016 financial year.
Earlier this month, Campbell announced the launch of organic "vegetable-forward" soups in the US under the Souplicity brand.