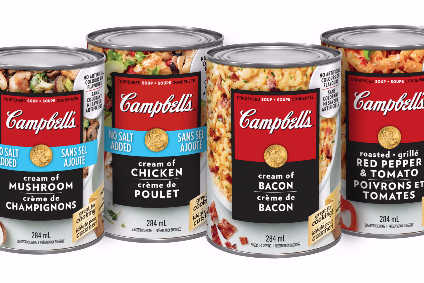 US food giant Campbell Soup Co. is reportedly coming under pressure from activist investor Daniel Loeb to sell the business just weeks after chief executive Denise Morrison stepped down.
The New York Post reported yesterday (2 July), quoting sources, Loeb has held talks with the soup maker's family members, who control about 41% of the company, about hiring a bank to "explore" an outright sale. Loeb's Third Point hedge fund is said by one source to view Campbell as "undervalued".
Only last week the same newspaper said, again quoting sources, US food company Kraft Heinz is interested in buying Campbell. It claimed Campbell's management may start a sales process "soon".
Ex-CEO Morrison left Campbell in May, the same day the company issued third-quarter figures showing a loss before interest and taxes of US$475m, a far cry from the $298m profit it posted a year earlier. The shares are down more than 16% this year on the New York Stock Exchange.
Speculation surrounding Loeb comes as Campbell takes strides to improve its performance, having hired SC Johnson veteran Roberto Leopardi as president of its meals and beverages business in May, a week after Morrison's departure. The division is central to Campbell's financial performance as the domestic soup business has experienced a fall in sales in six of the past seven years.
Chief financial officer Anthony DiSilvestro said in May Campbell was reviewing all aspects of the business as it was not "satisfied" with its recent financial results, despite having delved more into the snacks category with the purchase of Snyder's-Lance of the US in January.
"Our performance has been impacted by both execution-related and external challenges. We are addressing these challenges with renewed urgency. Looking ahead, we will be reviewing all aspects of our strategic plans and portfolio composition. We anticipate that our review, which will take several months to complete, will lead to changes designed to improve our operating performance and create long-term shareholder value."
The New York Post article quoted one of its sources as saying Campbell held a board meeting last week but took "no action" on Loeb's suggestion. The activist investor may go public in the next month to put pressure on Campbell to "shift to a sale plan," a source said.
And according to the newspaper's sources, Mary Alice Malone, the granddaughter of John T. Dorrance, a chemist who invented condensed soup and who went on to be president of the company, is reluctant to sell. She is the largest individual shareholder with a stake of around 17%. Meanwhile, Bennett Dorrance owns about 10% but is also reluctant to sell. However, there are family members interested in a sale, the sources said.
Neither Campbell nor Third Point had returned requests for comment at the time of publication.
just-food opinion: Why Kraft Heinz should steer clear of Campbell