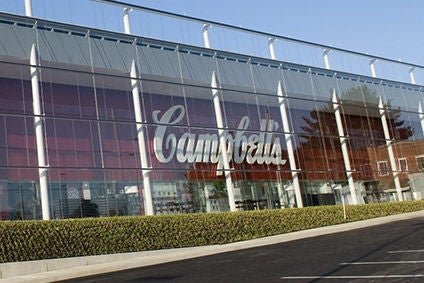 Campbell Soup Co. president and CEO Denise Morrison said today (22 November) the US group had got off to "a solid start, relative to our expectations" after seeing flat sales but higher profits in the first quarter of its financial year.
Morrison, who has been vocal in her disappointment in Campbell's performance in recent quarters, pointed to "expanded gross margin, and adjusted EBIT and EPS growth" against what she said was a "strong" quarter in the first three months of the company's previous fiscal year.
"As expected, organic sales were down slightly compared to the prior year, due to the performance of Campbell Fresh," Morrison said.
The group's Campbell Fresh division saw its sales and profits fall in the fourth quarter of Campbell's previous financial year amid a recall of a Bolthouse Farms drinks line and a series of commercial decisions that hit sales of carrots and carrot ingredients.
Campbell Soup Co. on FY2016, 2017 prospects, problems with Fresh and with soup – 6 things to learn
Morrison added today: "Campbell Fresh continues to rebuild capacity for Bolthouse Farms Protein Plus drinks following a voluntary recall last quarter, and remains focused on working to regain lost carrot customers over time with improved quality.
"Looking ahead, I remain optimistic about plans to accelerate growth with improving trends in U.S. soup and the upcoming launch of Well Yes ready-to-serve soup, continued strong performance in Pepperidge Farm and a return to growth in Campbell Fresh. Our guidance for the year remains unchanged."
For the current financial year, Campbell expects its sales to fall in a range of being flat to up 1%. It expects adjusted EBIT to increase by 1-4% and its adjusted earnings per share to rise by 2-5%.
In the first quarter, which ran to 30 October, Campbell generated net sales of US$2.2bn, flat on a year earlier. On an organic basis, sales dipped 1%.
EBIT was up 45% at $457m, helped by lower pension and post-retirement expenses, as well as a reduction in charges from Campbell's moves to cut its costs, year-on-year. Excluding these factors, EBIT grew 1% to $486m.
Net earnings stood at $292m, compared to $194m in the first quarter of Campbell's 2015/2016 financial year.